Books are a fun and simple way to help kids learn about everything from animals and weather to holidays and faraway places. They're also a great way to remember a favorite spot you've visited in the past. In our family, one such favorite place is Yosemite National Park. Whenever a trip to our family cabin in is on the horizon, our favorite books about the park come out in force.
Over the years, we've accumulated quite a few titles that we like. Here's a list of what we consider the best books for kids about Yosemite.
Baby Yosemite by Katherine Brumage 
The only board book to make the list, Baby Yosemite features beautiful color photographs of some of Yosemite's young creatures. You'll learn how fawns, owlets, ducklings, cubs, and other baby animals explore the park. Perfect for the preschool and up crowd.
Baby Bear Isn't Hungry by Michael Elsohn Ross
This is a cute story about a baby black bear who is too curious to eat. I love it because it so reminds me of The Little Explorer's spirit of adventure. It's fun to read along as baby bear plays in the mud, swings from trees, discovers insects and wanders through the forest.
Two Bear Cubs by Robert D. San Souci
The Big Explorer was completely taken in by this retelling of the Southern Sierra Miwok legend of the mountain El Capitan and how it came to be. The story features characters based on real Sierra animals, and shares the lesson that being a hero has very little to do with one's size. This is a great way for kids to learn more about some of Yosemite's original inhabitants: the Miwok people.
Little Ty Cooney and the Big Yosemite Race by Stephan Riley
This fun, rhyming story takes you on adventures through the wild lands of Yosemite with a band of animals competing in their annual big race. Underdog raccoon Ty Cooney isn't expected to win, but proves hard work and believing in yourself can make a difference. This is one of those books that kids enjoy reading over and over again.
Camping With the President by Ginger Wadsworth
This book tells of the famous 1903 camping adventure of naturalist John Muir and President Theodore Roosevelt in Yosemite. For three glorious nights and four days, the two men talked about birds, giant sequoia trees and glaciers, as well as the importance of preserving wilderness for future generations.
Setting aside new national parks and monuments became one of the cornerstones of Roosevelt's presidency and was a direct result of this camping trip. I love that it's written simply enough so even elementary school kids can sense just how important and special a place Yosemite truly is.
Ranger Baldy and the Disappearing Waterfall: A Yosemite National Park Adventure by Ranger Baldy
Our friendly narrator is bald eagle Ranger Baldy of the Animal Rescue Corps. When Yosemite National Park's grandest waterfall mysteriously disappears, Ranger Baldy soars into action. The story features Yosemite's native animals and landscapes and is beautifully illustrated. (You can read our full review here.)
My Yosemite: A Guide for Young Adventurers by Mike Graf
Aimed at the 10 and up crowd, My Yosemite: A Guide for Young Adventurers is a guidebook to the park and more. Kids can use it as a reference book to learn about the geology, history, plants and animals of the park. They will also enjoy all the beautiful color photographs and stories shared from the author, park rangers and others. Sprinkled throughout are tips on where to go and what to see, packing lists, safety tips and more. I was surprised at how much I learned – and I've been visiting Yosemite at least once a year since I was a kid!
If your child likes My Yosemite, Graf has another book about Yosemite that adventurous kids might enjoy.Harrowing Ascent of Half Dome follows the journey of the Parkers (a family of four) as they attempt to summit Half Dome.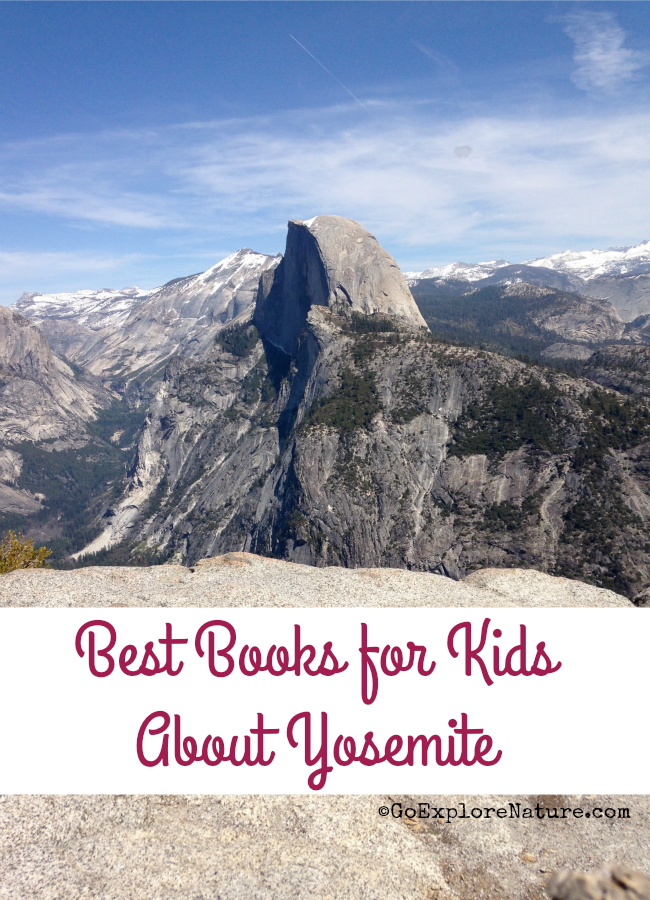 For more about family travel in Yosemite, don't miss An Insider's Guide to Exploring Yosemite National Park with Kids. I also regularly update my Yosemite National Park board on Pinterest with all the best on the park from around the web.