We've come to enjoy afternoons spent touring local tide pools. We've checked out Point Fermin State Marine Park in San Pedro, Abalone Cove in Rancho Palos Verdes and the tide pools at El Matador State Beach in Malibu.
So this month we wanted to try exploring tide pools at Leo Carrillo State Park for our family nature club adventure. This outing turned out to be our most popular yet, with a whopping six families and nearly 20 kids. I was thrilled to see so many people excited to be outside exploring nature. Leo Carrillo certainly didn't disappoint.
It's a short stroll to the beach from the parking lot, and an even shorter walk to water's edge. The tide pool discoveries began almost as soon as we reached the rocky shore. We quickly spotted sea anemones (tons!), sea stars, sea urchins, mussels, barnacles and crabs.
The group spread out as each kid seemed to be eager to explore something different. That's what I loved most about Leo Carrillo – there really was something for everyone. In addition to the tide pools, there were cool caves that created "tunnels" The Little Explorer just couldn't get enough of.
There were also plenty of rocky outcroppings exposed during the low tide – perfect for little climbers. When you reach the top, you are rewarded with hidden pools rich with marine life. Oh, and the view is pretty cool, too, if you're in to that sort of thing.
Most of our group was content to play along the shore for the entire two hours we were there. But some of the kids also wanted to explore the main beach area, where a stream from Arroyo Sequit Creek forms a small pool just perfect for little explorers. (Note: The water quality here, as in most Los Angeles-area beaches, is awful; this spot rated a "D" during our visit.)
In addition to taking a dip in the "pool" (which was about knee-high on my 6-year-old), some kids were moving rocks in to the narrower parts of the stream to create a dam. Still others were building sandcastles (and drip castles, too). It felt like one big nature playground.
For the most part, the kids were sandy, soaked and begging for more. And that, to me, is one perfect way to spend an afternoon.
Notes for Families
Check the tides. Time your visit for the hour before and the hour after the low tide. (You can check the tides here.)
Wear the right shoes. Opt for water sandals or go barefoot (just keep in mind that the there are lots of rocks to climb on, so sensitive feet may prefer shoes).
Bring a towel & spare clothes. The kids will get wet and sandy so a change of clothes is a must. A bathing suit, towel and sand toys may come in handy, too.
Show your kids how to respect tide pool life. Don't remove any animal or poke at it, leave things where you find them & take care not to walk on marine life.
Practical Matters
2016 Note: The following construction alert is currently in effect: A project to enhance endangered fish habitat, public beach access and water quality will close vehicle access to the beach, all day-use parking, and the group campground until further notice.
No park entrance fee
Parking: $12 or free with a California State Parks Pass
Restrooms: Portable toilets in the parking area; flush toilets at the beach
Park features: 1.5 miles of beach, tide pools & coastal caves for day visitors, plus camping facilities for overnighters; There is a small Visitor Center which has interpretive displays (it was closed during our visit); during the summer, children's programs are available
Park information: Park brochure
Getting There
Leo Carrillo State Park is 28 miles northwest of Santa Monica on Pacific Coast Highway – about an hours' drive from the Westside.
Leo Carrillo State Park is located at:
35000 W. Pacific Coast Highway
Malibu, CA 90265
Directions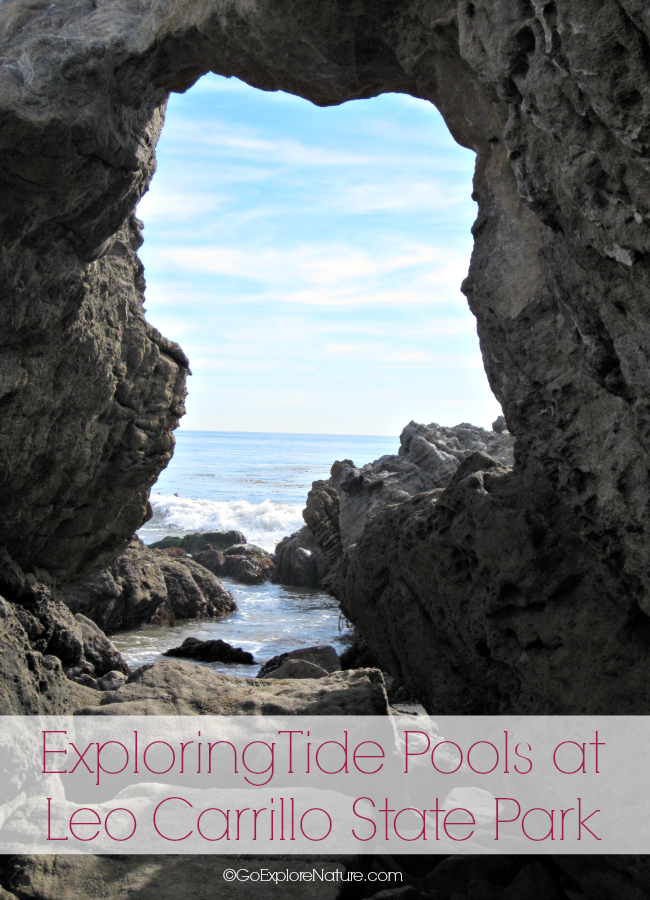 While you're in the area, you might want to stop by one of these 10 nature destinations in Malibu.
Note: The family nature club mentioned in this post no longer exists. Of course, we still spend lots of time exploring the outdoors with our kids in Los Angeles!