Welcome to "Field Trip Friday" where I share an idea for a fun outing in nature. The setting is specific, but the advice is intended for use wherever you might call home.
The Plan
Surprise The Big Explorer with a weekday afternoon visit to the NHMLA Spider Pavilion at the Natural History Museum of Los Angeles County.
To try this adventure outside of the Los Angeles area … Check your local nature centers, zoos and regional and/or state parks for spider-related programs. They're especially popular in the fall around Halloween.
Field Notes
I'm not huge fan of spiders. In fact, they sorta creep me out. But I do spend my fair share of time marveling at webs. There's something captivating about them once you get over your initial eeks.
Spend just a few minutes inside the Spider Pavilion and you'll know why. Within this enclosed safe haven, spiders are able to spin their webs in plain view, creating a comfortable, safe and immersive environment to wander through. No glass enclosures here.
Bonus? None of the animals exhibited in the Spider Pavilion are dangerous to humans. Provided you stick to the path and tread lightly, you needn't worry about any unwanted up-close-and-personal encounters.
Insider tip: Before you head into the Spider Pavilion, let your kids know what to expect. An ounce of prevention can go far in preventing a case of the heebie-jeebies.
Once you're inside, don't be surprised if it takes your eyes a few minutes to adjust. Some of the webs are so transparent they can be hard to spot. You'll want to look up – where some spiders appear to be hanging out in mid-air – and in-between the leaves of plants for the best sightings.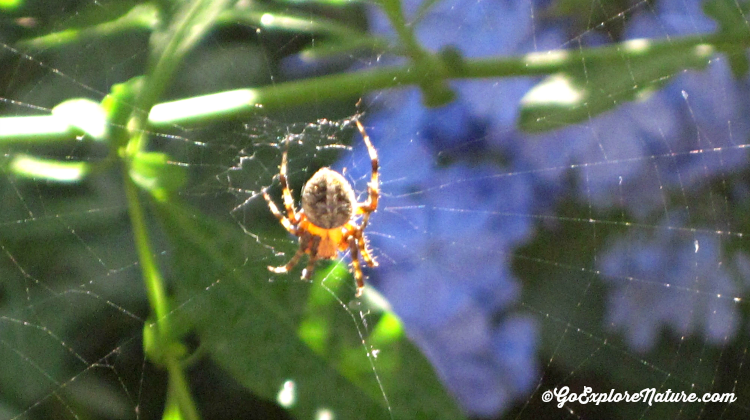 During our visit, The Big Explorer loved pointing out each and every spider he could spot, then asking me what type they are, where they're from, what type of web they spin and on and on.
Thankfully, the staff at the Pavilion came to the rescue with oodles of answers. If ever you wanted to learn about spiders, this is the place to come.
Insider tip: For the best experience, grab a Pavilion staff member; these people are eager to dispel common misconceptions about spiders and will happily answer questions from even the youngest visitors.
Practical Matters
The Spider Pavilion is open daily mid-September through October
Special timed tickets are required and are not included in the price of Museum admission; free for members
The Spider Pavilion is located just outside the main Museum building on the South Lawn
No strollers are permitted within the Pavilion
Everyone exits through a small gift shop
The Spider Pavilion is located at the Natural History Museum of Los Angeles County:
900 Exposition Blvd.
Los Angeles, CA 90007
Directions to the Museum