Spring has sprung in many parts of the country – and soon will in others (hopefully!). It's time to get outside and explore nature!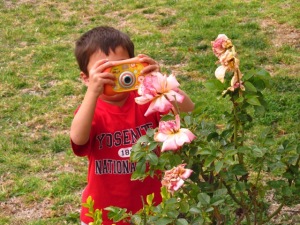 The Children & Nature Network is kicking off a huge event in a couple of days called Let's G.O.! (Get Outside) Month. The idea is to rally people of all ages to play, serve and celebrate nature during the month of April.
I decided to show my support by creating a photo scavenger hunt – with a bent on nature, of course!
Every day, you'll be inspired to get outside with your kids, snap a photo and share it with the rest of us. Your only rule: Have fun! (And don't be afraid to let the kids take a photo or two!)
April #GetOutside Photo Scavenger Hunt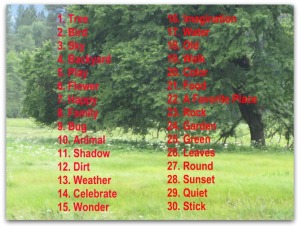 How to Play
Get your free printable #GetOutside Photo Scavenger Hunt list. Post it somewhere you'll see it every day. Once you've taken a photo, there are lots of ways to play along:
Share your photo on the Go Explore Nature Facebook page or on Instagram (follow me @goexplorenature).
I'll be using the hashtag #GetOutside for @goexplorenature Instagram and Twitter followers to share their photos.
If you're on Pinterest, send me your username & follow any of my boards; you can then add your photos to my April #GetOutside Photo Scavenger Hunt board.
And if you'd love to play along but have no desire to share your photos publicly, I hope you'll still get outside. At the end of the month, you'll have a wonderful collection perfect for a photo book!
This game is meant to be fun, so don't worry if you miss a day or post a photo on the wrong day. The point of all of this is to get outside with your family and connect with nature.
Ready to play along but need some ideas for getting outside? Here are a few to get you started:
Note: I must give a huge nod to both Papercoterie and FatMumSlim who inspired me with their fun daily photo challenges on Instagram.