Earlier this month, I shared some of the summer backyard play spaces we're planning. Today I'm ready to unveil the first of these spaces, our nature play station.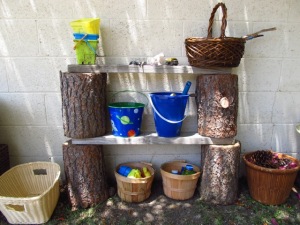 How it's made:
I took a couple of unused wood planks we had lying around the backyard and placed them across some tree stumps we inherited last fall. The result is a shelving unit that makes for a perfect nature play station. I positioned the unit against a side wall in our yard for added support. Best part? Free.
How it's used for nature play:
This is a one-stop shop for our nature play tools. I gathered like items together in pails and baskets we already had so the items could easily be grabbed and taken to another area of the yard as needed. Here's what we have so far:
Top shelf: Sand molds, plastic animals & cars, a basket of sticks
Middle shelf: Pail of rocks, bucket of sand/dirt tools (shovels, sieves & the like)
Bottom (ground) level: Basket with more sand molds & a basket of bubbles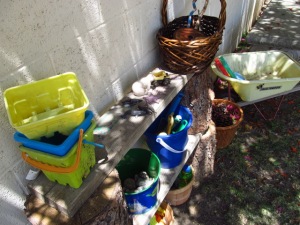 Alongside the unit, there's also a former planter holding pine cones and our kids-sized wheelbarrow, which houses our larger plastic shovels.
What the kids think:
It's nice having everything in one place – and all within easy reach for the kids. The Explorers are still getting used to the set up, but like seeing all of their "goodies" in one spot. They'd like to add a few more items, like their bug containers and magnifying glasses, so I consider it a work in progress.
For what it's worth, I like that I found a cool, shaded place for their things – an invaluable feature as temperatures rise. It's also conveniently located alongside two more of our backyard play spaces, the sand play area and water zone. More on both soon enough.