We've had summer on the brain all week around here. I blame the 75+ degree temperatures.
But seriously, summer will be here before we know it. As part of my effort to gear up for summer nature fun, we've been busy cleaning up the backyard. I'm exhausted but excited to see our outdoor space is starting to look a little more summer-ready.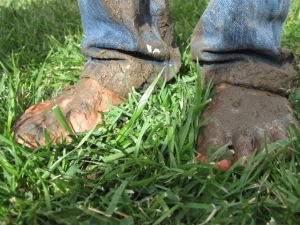 Last year, I invited you to come take a peek inside our backyard space; this year I hope to have some fun new spaces to share with you.
Before I unveil any of the specifics, I thought I'd give you an idea what sorts of outdoor play spaces we're planning:
1. Sand play area
We inherited a plastic sandbox from our neighbors. Although perhaps not my first choice, the price was right and it was a serious upgrade from our backyard beach space of years passed. In fact, this one's big enough for both of The Explorers to sit in. Bonus is that it comes with a cover.
2. Nature play station
A couple of unused wood planks and some tree stumps are now a makeshift shelving unit serving as our nature play station. Here, we keep our sand and dirt toys (buckets, shovels and the like), plus other natural elements like acorns, shells, sticks and rocks.
3. Water play zone
Once the temperatures start to rise, water play takes over the entire backyard. But for now, we have a dedicated area where we keep a large galvanized tub that's perfect for filling with water. Alongside the tub we'll keep our water play tools – squirt guns, spray bottles and sponges. And of course, a large dirt pile.
4. Creative expressions wall
A previously blocked wall space will serve as a creative expressions area this summer. A large expanse of butcher paper set up at a kid-friendly height will be the backdrop for all sorts of masterpieces. I've got at least one Explorer begging to get painting out there already.
5. A kids-only space
Be it a fancy clubhouse, an unused tent or even a cardboard box, this summer we will have a space in the backyard that's reserved just for The Explorers.
Of course, our backyard remains a work in progress, evolving as the kids' interests change. And there are some serene grown-up spots, too. Which means everyone can be outside together enjoying long summer days and nights. Really, I can't wait.
Need more ideas? Check out my outdoor nature play spaces board on Pinterest, where I collect inspiring ideas from around the web.