The first item on our summer fun list to be checked off? Watching a movie in our backyard.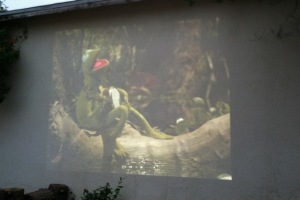 It all started when we talked a dear family member into loaning us a digital projector – the key component in pulling off a backyard movie night. Then we set a date, invited friends and picked a film.
The night turned out to be such a big hit, we're hoping it'll be a new start-of-summer tradition.
What You'll Need to Host Your Own
I'm thankful that my hubby is a technological wizard – though you don't need to be to host your own backyard movie night. It was just nice having him around to coordinate the gear. Here are the movie-running essentials (straight from the hubby's mouth):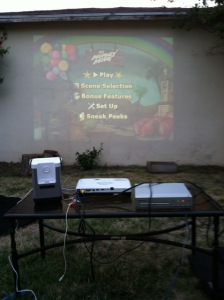 A digital projector*
A DVD player or a computer with a monitor output (you might need a special cable, too, depending on the projector)
A screen (or a white sheet) or the side of a house, garage, etc., that's white colored
Amplified speakers or a sound system (if you want to get real fancy)
*A note about digital projectors: If you don't have one (or a nice friend who will lend you one), you can rent one at a place like Projector123.com. The downside is that it's not cheap ($100+). One option might be to split the cost with friends.
Creating a Family-Friendly Setting
While you can just wait for the sun to go down and start the film, we decided to make an evening of it. There was fine summer cuisine, the first s'mores of the season and plenty of backyard fun before the sun went down.
A few simple suggestions to make sure your evening goes off without a hitch:
Don't forget the seating, blankets and jackets.
Invite the kiddos to wear their favorite pajamas.
Choose a family-friendly film.
Warn (and/or invite) your neighbors.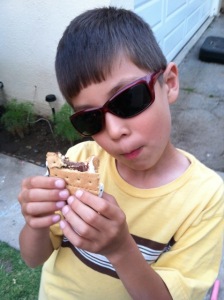 The Big Explorer looking too cool for school
What We'd Do Differently Next Time
We were pretty happy with our evening, but there are a few things we'd do differently next time around.
Give the equipment a test run. It takes a little trial and error to figure out where to place the projector, plus to figure out the ideal height and angle so the image is straight. Best to do this before people are settling in and ready to watch.
Have an adequate sound system. The amplified iPod speaker we used was just loud enough to hear (though no one complained). On the plus side, we certainly didn't annoy any neighbors!
Prep guests for a late night. The sun didn't set much before 8 p.m., so by the time our movie got underway, many of our younger guests were ready for bed. By the time the movie ended (well before 10 p.m.), most of the party had gone home.
How about you – have you ever hosted or attended a backyard movie night?