Last week in my post on gearing up for summer nature fun, I mentioned we were putting the finishing touches on our summer fun list. And since I suspect some of you might be interested in what we'll be up to in the coming months, I figured I might as well share our list here.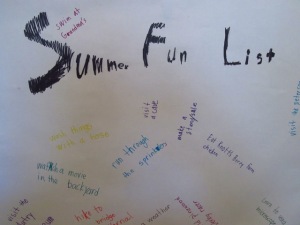 Three things I want to point out first. About 95 percent of the items on this list were kid generated. That's mostly due to the fact that The Big Explorer (now 7.5) has tons of ideas. And The Little Explorer (at 4) is still happy enough to oblige.
The second thing is that we've made this list very visible in our home. The Big Explorer wrote each of the items on this list on a poster-sized piece of butcher paper, which we then hung on a wall in a high-traffic area in our home. You can't miss it.
Which is precisely the idea. After all, we're not just creating a wish list; this is our go-to guide for making the most of our summer.
And we're turning these ideas into reality. We've already planned to do several of the items on this list – something that I doubt would have happened if we hadn't put our dreams down on paper.
Backyard Nature Fun
Build a fort
Learn to use a microscope
Decorate a cardboard box fort
Wash outside toys with soap & water
Set up a weather station
Run through the sprinklers
Watch a sunrise
Make ice cream floats
Host a lemonade stand (or at least sell something)
Have a water gun fight
Play on the slip & slide
Do the Mentos & Diet Coke Geyser experiment again (because once was not enough)
Build a Pinewood Derby racer (The Big Explorer is a car fanatic, after all)
L.A.-Area Day Trips
Nature Travels
Take a road trip (oh yes, we are!)
Go camping
Go rock hunting
Hike to the bridge at the base of Vernal Falls (during our annual vacation in Yosemite)
Visit Glacier Point (during the same trip to Yosemite)
Explore a cave at Lava Beds National Monument (on our summer road trip)
Have you created your summer fun list yet?