If you haven't visited the La Brea Tar Pits and Museum recently, things have changed. The Museum still houses the largest and most diverse array of extinct Ice Age plants and animals in the world. But these days, a visit is also a chance to see history come alive. That's because now you can do things like watch scientists prepare fossils in the Fossil Lab or visit an excavation site currently in use!
While there is a lot to see at the La Brea Tar Pits and Museum, there is one thing you won't find here: dinosaur fossils. That's because dinosaurs were extinct for 65 million years by the time the tar pits occurred. (If your kids want to see dinos, head over to the Natural History Museum of Los Angeles County.)
There is actually quite a bit to do and see during your visit. Here's an explanation of what's available so you can decide what's best for your family.
INSIDE THE MUSEUM 
La Brea Tar Pits Museum and Fossil Lab: On display inside the museum are mammoths, saber-toothed cats, dire wolves, giant sloths and more. The big hit here is the tar pull, which gives kids a chance to test their strength to discover what it's like to be trapped in tar.
This is also where you'll find the glass-walled Fossil Lab, where you can watch paleontologists working on fossils they find just yards away in the asphalt.
In the middle of the museum is an atrium, a tree-filled, open-air space that features a koi pond. It's fun for kids to run around here trying to spot fish and turtles.
Ice Age Encounters: This 15-minute show combines a live speaker with video footage and a life-size adult saber-toothed cat puppet. This one may be too scary for the littlest explorers, as the show takes place in a dark room and the cat puppet is really big! Shows run Fri., Sat. & Sun only. Free for members, additional fee for non-members.
3D Theater: Now playing is Titans of the Ice Age, a 25-minute film that explores what life must have been like for Ice Age animals. Requires use of 3D glasses (provided) and might be a little scary for some kids (there's a scene with dire wolves fighting each other and a saber-toothed cat over a kill, for example). Film runs daily from 10 a.m. to 4 p.m. Free for members, additional fee for non-members.
OUTSIDE THE MUSEUM
Excavator Tour: Tours begin at the Fossil Lab, then head outside to the Observation Pit (accessible only on this tour) and Project 23, where you can see scientists excavating fossils found right in the La Brea Tar Pits area!
Tours last about an hour and require listening while your guide points out interesting facts – making it more suitable for school-age kids. Tours are offered daily in the afternoon; timed tickets are required. Free with museum admission.
Explore the La Brea Tar Pits: There is a huge outdoor area surrounding the museum in Hancock Park that kids will love to check out. You can wander through the Pleistocene garden, which features vegetation that, according to plant fossils, might have been here 10,000 to 40,000 years ago. Or go see Pit 91, an active excavation site you can see close up.
I think the kids would agree that the most fun thing to do outside the museum is to head up to the top of the grassy hill and run or roll down it!
Notes for Families
Suggested time: Younger kids may move through the museum quickly and have little interest in the shows and tour, but may like playing on the grass outside; older kids can easily spend several hours here.
If you're interested in catching one or all of the "extras" available – the Excavator Tour, Titans of the Ice Age and Ice Age Encounters – buy your tickets online and print tickets from home. This allows you to coordinate the timing of whatever extras you choose.
There are no food services within the Museum. We usually bring a picnic lunch since there are plenty of tables and lots of grassy spots to enjoy it. There are also restaurants within walking distance along Wilshire Blvd., even food trucks during lunch on weekdays.
Right next door to the La Brea Tar Pits and Museum is the Los Angeles County Museum of Art (LACMA). Its Boone Children's Gallery is a fun spot for kids to create their own art.
Daytrip Costs (for a family of 4)
Parking ($10)
Museum admission (including the free Excavator Tour) ($12 per adults x2, $5 per child ages 3 through 12, x2 = $34 total)
Ice Age Encounters & Titans of the Ice Age 3D are an added cost
Total: $44 (admission and Excavator Tour only), $62 with Titans of the Ice Age & Ice Age Encounters included
To save: Consider a Family Membership. At $89, it pays for itself in 3 visits (2 visits if you take advantage of all the extras). Plus, it includes free entrance to the Natural History Museum of Los Angeles County and the William S. Hart Park and Museum.
Practical Matters
Museum is open daily 9:30 a.m. to 5 p.m.; closed New Year's Day, July 4, Thanksgiving Day & Christmas Day
2015 admission fees (including the Excavator Tour): $12 for adults, $9 for kids 13-17, $5 for kids 3-12; kids under 2 are free
Admission is free on the first Tuesday of each month, except July and August
Additional tickets must be purchased to see Titans of the Ice Age and Ice Age Encounters
View the Museum map & calendar online before you go
Parking in the museum's lot is $10; lot is located on Curson Ave. (from Wilshire Blvd. heading east, turn left onto Curson Ave., then left into the lot)
Street parking is also available, but read all posted signs to avoid being ticketed or towed!
Restrooms are available within the Museum, and near the front entrance in the picnic area
Museum and surrounding area is stroller friendly
No food or drinks are allowed inside the Museum, though the Museum store does sell bottled water and snacks
Plenty of open, grassy space for picnics, plus there are picnic tables in front of the main entrance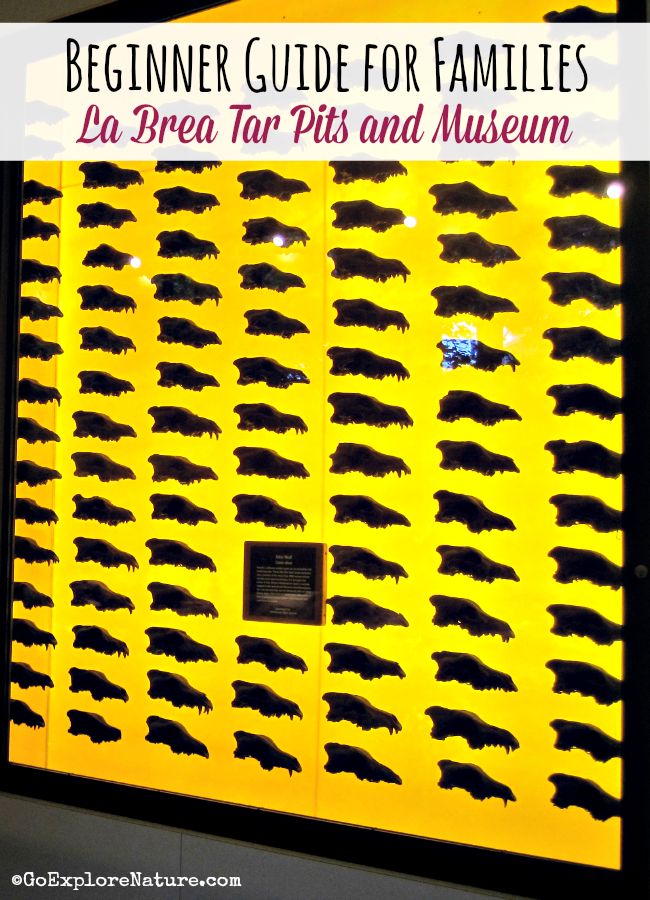 La Brea Tar Pits and Museum is located at:
5801 Wilshire Blvd.
Los Angeles, CA 90036
map