Both of The Explorers agreed that this summer we should go fishing (it's even included on our summer fun list). Although the hubby and I have been fishing a few times, we're no experts. To be honest, when it comes to fishing with kids, we're not quite sure where to start. So I decided to turn to the pros for help.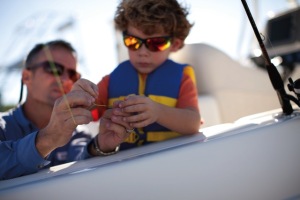 Photo courtesy of the Take Me Fishing™ campaign
I hooked up with the folks behind the Take Me Fishing™ campaign, aka the Recreational Boating & Fishing Foundation, or RBFF. Its mission is to promote fishing, boating and conservation.
While the website has lots of wonderful information for families, I wanted some specific tips for first timers like myself. Luckily, Stephanie Vatalaro, director of communications at RBFF, came to my rescue.
Stephanie's got fishing in the blood. She's the daughter of a fishing guide who grew up fishing and boating with family and friends. Add to that that she's a parent, and I figured she'd have some good advice for us.
Many thanks to Stephanie for helping me put together this list of tips for beginning fishing with kids. Her advice:
Head to your local sporting goods store or tackle shop.
Here's where you can find out what types of fish are found in your area, and which spots are the best for fishing with kids. You can learn more about the equipment you'll need and some basic tips such as what time of day to go and the best general area of the lake or pond to set up.
Get geared up.
Once you decide where you'll go, you can determine what equipment you'll need. Some fishing spots even have equipment available for rent on site. If not, you'll need a few things to get started:
Rod & reel (you can get something basic for under $20)
Hook & bobber
Scissors or nail clippers
Hook removal kit
Bait (which depends on where you go & what you're fishing)
A fishing license (each state has its own rules & regulations)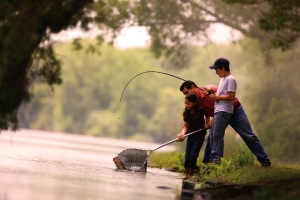 Photo courtesy of the Take Me Fishing™ campaign
Go local.
Figuring out where to go fishing with kids can be pretty overwhelming. Your local sporting goods store or tackle shop may be able to point you in the right direction.
Look for local spots that feature a stocked pond or a fishing derby for guaranteed success. Some places feature special family days or events where teaching the fishing basics is part of the experience.
Keep early outings short & fun.
Aim for just a couple of hours at the fishing hole at most – less if your kids are younger. And if you've never taken the kids fishing before, incorporate it into something you know your kids already enjoy like a picnic, scavenger hunt or chasing butterflies. If attention spans for fishing are low, at least you know you'll be able to salvage some outdoor fun.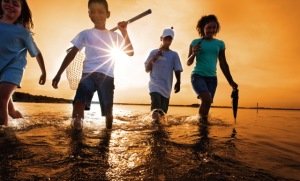 Photo courtesy of the Take Me Fishing™ campaign
Want more information about fishing with kids? Here are a few helpful resources: