While our road trip earlier this month was highlighted by stops at Humboldt Redwoods State Park, McArthur-Burney Falls Memorial State Park and Lava Beds National Monument, there were other pit stop adventures along the way. Here are some of our favorites:
Golden Gate Bridge (San Francisco, CA)
The Big Explorer had been looking forward to crossing the Golden Gate Bridge for months. We had hoped to have time to walk across, but settled for a short stop at Vista Point (on the Marin side of the bridge). With amazing views of the San Francisco skyline, we weren't too disappointed.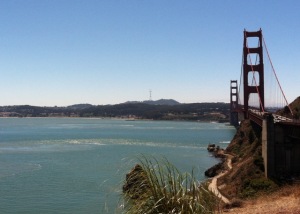 The view of San Francisco from the Marin side of the Golden Gate Bridge
We're very much looking hoping to heading back here someday to spend more time exploring Golden Gate National Recreational Area.
Glass Mountain (just outside Lava Beds National Monument, northeastern CA)
As if exploring the lava tube caves at Lava Beds National Monument wasn't enough, there was one more treat on our agenda while we were in the area: a stop at Glass Mountain.
Glass Mountain consists of a spectacular, nearly treeless, steep-sided rhyolite and obsidian flow. Which loosely translated into non-geologist terms means "cool mountain flow made of black rocks." (Imagine a glacier that's made of black rocks and now you've got it …) If there's a mineral hound in your family, you must stop by.
Close up of the obsidian flow at Glass Mountain
Getting to Glass Mountain is of course an adventure in and of itself. But if you're willing to brave a brief drive on a bumpy dirt road, it's worth it. We had the (unlabelled) lookout point entirely to ourselves.
Railroad Park Resort (Dunsmuir, CA)
After camping in three different sites on three consecutive nights, we rewarded the kids (and ourselves) with a night at the Railroad Park Resort. Here you'll find once-working cabooses repurposed for use as motel rooms. In addition to the pleasantries of private bathrooms and showers, the Caboose Motel also has a pool and Jacuzzi.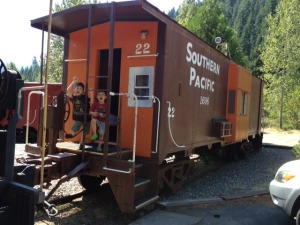 Just a bit excited to discover where they'd be spending the night
Railroad Park Resort was a splurge for us at $135 for the night, but totally worth the experience. This is a great spot to stay if you're heading to any points north, as it's located right off Interstate 5 near Redding at the base of the Shasta Cascade region.
San Francisco Maritime National Historic Park (San Francisco, CA)
San Francisco Maritime National Historic Park encompasses more than 30 acres and has the most national historic landmarks of any unit in the National Park Service. In addition to the fleet of historic ships at Hyde Street Pier, the park includes the Aquatic Park History District, a Visitor Center and a research library.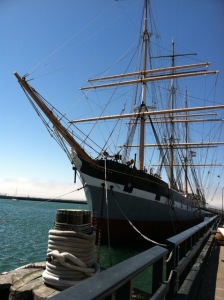 Balclutha is just one of several historical vessels moored at Hyde Street Pier
We stumbled right into San Francisco Maritime National Historic Park without even knowing it. (It's easily found at the end of the trolley line at historic Hyde Pier.) We toured the pier and Maritime Museum before heading over to Ghirardelli Square for a much-deserved sweet treat.
For more on our 2012 Northern California road trip adventures, check out: