By the time you read this, the fam and I will be knee deep into our week-long "Great Northern California Road Trip of 2012." This adventure is our last hurrah before The Big Explorer heads off into the land of third grade next week.
It has been a short 7 weeks of summer for us, packed with travels to Yosemite and Las Vegas – plus an impromptu four-day getaway for The Big Explorer and I in San Diego just last week.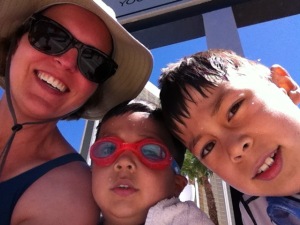 Me & the boys enjoying pool time in Vegas last month
But we've been looking forward to this road trip all summer.
As with any of our travels, there will be much nature fun on the agenda. Our route up into the far north regions of the state includes overnight stays in Humboldt Redwoods State Park, McArthur-Burney Falls Memorial State Park and Lava Beds National Monument. You can anticipate a few quirky roadside pit stops along the way, too.
We'll be ticking off several items on our summer fun list as we explore caves, camp out, go rock hunting and maybe even watch a sunrise. But most of all, we're looking forward to hanging out as a family. With no outside distractions or obligations to speak of.
So please excuse the quiet around here as we're off making memories. I hope you've got something special on the agenda, too.
If you happen to be on Instagram, you can follow our adventures there, where you'll find me as none other than goexplorenature. (You can also see the same photos via the Instagram feed on the Go Explore Nature Facebook fan page by clicking here.)