Before heading off on our road trip adventures earlier this month, my hubby put together a wonderful packet of essential information. In it were maps, maps and more maps, park brochures, hiking trail information, campground maps, checklists, TripTiks – even pages of sage advice passed along from a friend who'd been to many of the spots we planned to visit.
Turns out much of the information we needed could be accessed on the road directly on our iPhones. (Admittedly better done before your wireless connection gets spotty.)
In addition to some basic apps for things like up-to-the-minute weather forecasts and google maps, here are 4 must-have apps for nature travels:
California Parks
Imagine having all the great information you find online and in print about California's State Parks at your fingertips. Now you can. The California Parks app includes park description, location, activities, operating hours, even access to the park's website. If you like, you can also submit your own photos of the park.
How we used it: We read up on park information and activities before we visited.
GasBuddy
Okay, I know this has nothing to do with exploring nature, but let's be honest. When you're on a road trip, you need to know where you can get gas cheap. And that's exactly what service GasBuddy provides. It'll even map a route for you to the gas station of your choice.
How we used it: To find gas on the go – including several spots we never would have discovered on our own.
The Passport to Your National Parks
Search for national parks by name, state, Passport region or those close geographically. The Passport to Your National Parks app gives you on-the-go access to information from the Passport book, combined with the ability to view park maps, websites and much more.
How we used it: We certainly read up on the parks we were visiting before we arrived. But this app was most helpful in showing us where to go to get our National Parks Passport cancellation stamp! We also like that we can keep track of which parks we've visited.
Trekaroo
Much like the website that powers it, the Trekaroo app gives you instant access to kid-friendly attractions near your current location. It includes tens of thousands of points of interest and member reviews of activities, hotels and restaurants. (And yes, I have contributed many reviews myself.)
How we used it: Although we had most of our road trip agenda planned out before we hit the road, we did reserve some free time. It was nice to have access not only to basic information about popular destinations, but also parent-tested reviews.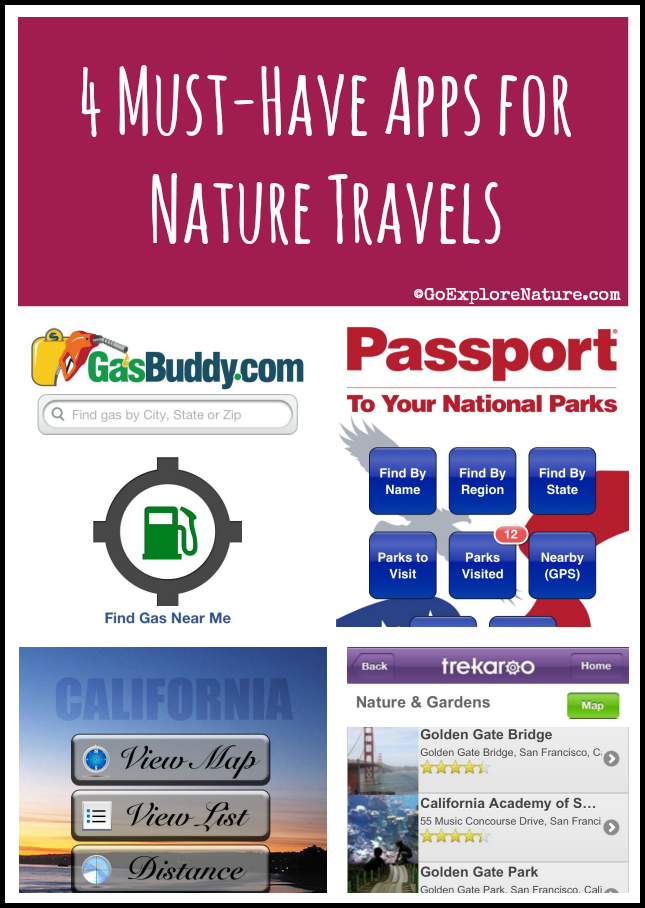 Looking for more apps for your next nature adventure? Check out:
Note: I was not asked by anyone – nor promised any compensation – to share my reviews of any of these apps with you here. Read my disclosure policy for more information.