While our visits to both Humboldt Redwoods State Park and McArthur-Burney Falls Memorial State Park were amazing, the main attraction of our 2012 Northern California road trip was our third and Northern-most stop: Lava Beds National Monument.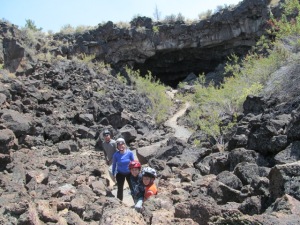 We look pretty adventurous, no?
I should preface this by pointing out that Lava Beds is a remote park, located in a corner of California that most people never visit (it's actually just a few miles south of the Oregon border). Most roads into the park wind through mountains and along rivers, making it an effort just to get there.
Of course, that was part of the allure for us. That, and the chance to explore caves with the kids.
The 45,000+ -acre Lava Beds National Monument features more than 700 caves – the highest known concentration of caves in the contiguous U.S. The caves were created by flows of smooth lava 10,500 to 65,000 years ago. Which means there's a lot of cool geological stuff going on here.
There are dozens of developed caves of varying difficulties that you can explore on your own. Which is exactly what we did.
Tips for caving with kids: Exploring caves can be exciting and rewarding, if you take proper precautions and use common sense. A few tips:
Start at the Visitor Center where you can talk with a ranger to ensure you are properly prepared; you can pick up information about open caves & their difficulty levels, borrow flashlights, & purchase bump hats, batteries & cave maps
Bring enough light – we each wore headlamps and carried a flashlight (bring batteries, too) & some caves still felt dark
Long pants, long sleeves, and closed-toed shoes or boots are a must (even when it's 100 degrees outside, cave temperatures are about 55 degrees)
Wear a helmet; we used our bicycle helmets but the Visitor Center sells inexpensive "bumphats" if you forget yours at home
Gloves & kneepads are recommended if you plan to visit more difficult caves
Choose the right caves for your skill level; all four of us were able to explore the "least challenging" & "moderately challenging" caves, but that might not be the case for every family
Stay on the trails & leave no trace of your visit; limit what you touch to just what you must to make your way along the trails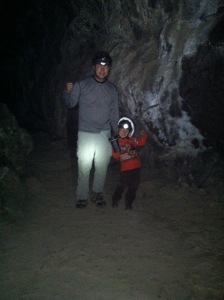 Dad & The Little Explorer getting goofy in the dark
If you like having seclusion and quiet with your nature, Lava Beds is your spot. We explored some six caves during our visit and saw less than 10 people the entire day.
Was I worried caving would be safe for The Explorers? Absolutely! Turns out I was worried for nothing. We did our homework, came prepared and were equipped properly. We were rewarded handsomely with an amazing adventure.
I learned a lot about my kids during our visit to Lava Beds – like how they're much better rock climbers than they ever let on and that the dark isn't so scary when you're all in it together. That and that in spite of being asked to wear long sleeves, pants, hats and gloves in 90+ degree temps, they never complained.
Park Features
We were so excited to explore the caves, that we didn't leave any time to take advantage of all the other things there are to see and do at Lava Beds National Monument. You can hike a trail, go bird watching, explore a battlefield, see a crater, and view Native American rock art (there's more here than anywhere else in California!).
Our itinerary: We arrived to claim a spot at Indian Well campground just before dinner. We spent the entire next day exploring caves (six total) before heading out of the park in the late afternoon.
Given the effort it takes to reach Lava Beds National Monument, I highly recommend leaving at least two full days for exploring, more if you prefer to take things at a slower pace.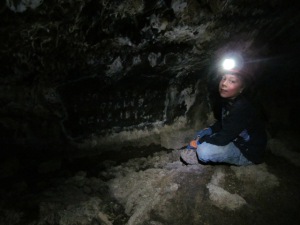 The Big Explorer makes a discovery – historical graffitti
Practical Matters
Lava Beds National Monument is open year-round. The Visitor Center is open every day except Christmas Day: 8 a.m. to 6 p.m., the Friday before Memorial Day through Memorial Day, 8:30 a.m. to 5 p.m. during Fall, Winter & Spring
Entrance to Lava Beds National Monument is $10; pass is good for 7 days
If you plan on caving, read up on safety recommendations before you go
Download a variety of official Lava Beds National Monument brochures here
In summer, rangers conduct walks, cave trips & campfire programs
Camping is the only choice for lodging within the monument ($10/night), with a 43-site first-come, first-served campground providing drinking water & restrooms
For places to stay outside the monument, see the Lava Beds National Monument lodging page
The bookstore in the Visitor Center provides snack food, ice, flashlights (for loan & purchase), caving helmets, film, batteries, books & souvenirs
No gas, firewood, restaurants, or showers are available in the monument, so plan accordingly
There is no public transportation within the monument; snow can temporarily close roads, but the park remains open year-round
Elevations range from 4,000 to 5,700 feet; cold weather is possible any time of year & snow has been recorded in all months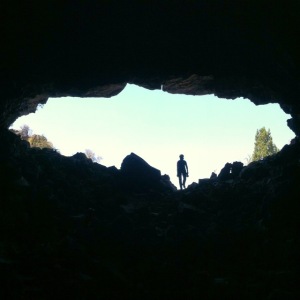 Me emerging from one of the many caves we explored at Lava Beds National Monument
Directions
The National Park Service page for Lava Beds National Monument provides directions from the I-5 corridor, the Klamath Falls, Oregon area and those traveling east on California Highway 299 from Redding or Lassen Volcanic Park areas. Suffice it to say, the journey to get there will be half the fun.
For more on our 2012 Northern California road trip adventures, check out: