Nature fun idea No. 4 on our Countdown to Christmas list was to design birdseed ornaments.
This is a great activity for cold winter days when you're looking for an indoor activity that connects kids to nature. Kids will enjoy mixing up the ingredients, but know that molding the birdseed ornaments is a slow process – it'll take several hours to an entire evening before these creations are dry enough to hang.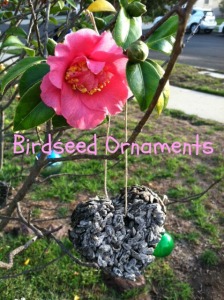 You can find the complete recipe for making birdseed molds on eHow, but I'll save you the trip and provide it for you here. (Aren't I nice like that?)
Ingredients*:
3/4 cup flour
1/2 cup water
1 envelope unflavored gelatin
3 tbsp. corn syrup
4 cups birdseed (whichever is popular with your local birds)
Molds (think muffin tins & cookie cutters)
Nonstick spray
Drinking straw
Waxed paper
Ribbon, twine or yarn
*Makes about a dozen medium-sized ornaments.
Directions:
Combine flour, water, gelatin & corn syrup in a large mixing bowl. Stir until well-combined.
Add the birdseed to the mixture, stirring gently to coat the seeds.
Spray your mold (muffin tins or cookie cutters) with nonstick cooking spray. Spoon some of the birdseed mixture into each mold. Pack down the seeds in the molds & make the tops smooth.
Poke a hole near the top of each mold using a drinking straw. Make sure the hole goes all the way through the mold. Leave in place.
Leave the birdseed mixture inside the molds for 2 to 3 hours. Lay out a sheet of waxed paper on a flat surface. Remove the birdseed mixture from the molds and gently place them upside down on the waxed paper. Allow them to continue to dry for 2 to 3 more hours (or overnight).
Cut your ribbon, twine or yarn and carefully string it through the hole. Tie a knot & it's ready to hang!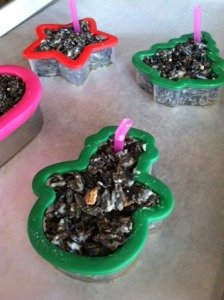 A few tips for fun and success making birdseed ornaments with kids:
Allow enough time for the molds to dry completely. We tried stringing a couple of ours after just 3 hours' worth of drying on each side. They broke apart! After letting them dry overnight, all the remaining molds were break-proof.
For a seasonal tie-in, use holiday-themed molds. We made a Christmas tree, a snowman & a star along with the heart pictured above.
Let the kids hang the ornaments. Pick an area you know your backyard birds will frequent.
Other DIY options for feeding the birds this holiday season (and all winter long) include: