One simple way to connect with nature when you're inside is to grow something indoors. We picked succulents for two reasons: They're one of the easiest plants to maintain (thank you very much) and The Explorers think they look pretty cool.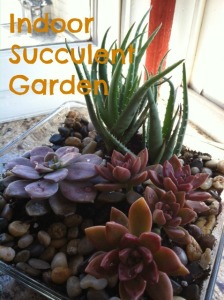 To create your own indoor succulent garden, you will need:
Glass container or other decorative planter (available at most craft stores)
Small river rocks (available at most craft stores)
Larger rocks
Soil (cactus soil is ideal, but you can also make your own by combining 2 parts regular potting soil with 1 part sand)
Succulent plants (available at home stores and nurseries)
Once you have your supplies:
Place the larger rocks in the bottom of your container. We used a few of the many we've collected on our nature walks. These rocks help drain excess water.
Add soil. Make sure your kiddos get their hands dirty, spreading the dirt around the bowl.
Set your succulent plants. We wound up buying more plants than we needed, so we tried a few different arrangements until we found one we all liked. After we placed the succulents, we filled in with additional soil.
Add river rocks. This adds a nice decorative touch to your succulent garden, and helps keep the plants separated.
Place your succulent garden in a spot that gets sunlight most of the day. Add water when the soil is dry.
Your turn – what do you like to plant indoors?