I hope I haven't given you the impression that the only way to connect kids with nature is to head outside. There's actually quite a lot of exploring and learning to be done inside, too.
Which comes in handy this time of year, don't you think?
Not only are there days when the weather severely limits (or prohibits) you from heading outdoors. But there are also those pesky sicknesses that hit either you or the kids hard (or, God forbid, more than one of you at the same time).
Whatever the reason you find yourself inside instead of out, here are a few ways you can use the time to connect with nature.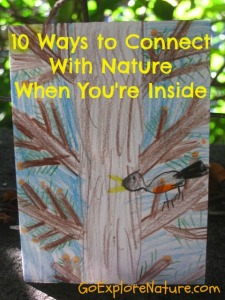 1. Watch "nature TV"
That's what we call it when we sit and watch what's going on in our backyard through the sliding glass door in mom and dad's bedroom. We've gotten up close with birds bathing in our birdbath and even spotted new-to-us backyard birds.
2. Read books about nature
I've shared a few of our nature-themed favorites in the past, like 10 books that connect kids with nature and 10 books about nature play on my reading list. Update your collection as the seasons – and your child's interests – change.
3. Grow something
Why not bring the garden insider? Start seeds in a cup, plant a terrarium, create a succulent garden or grow a sweet potato plant.
4. Start a nature collection
If your kids are anything like mine, they pocket collect all sorts of goodies when they're outside. You can display these treasures by season, or even start a collection of one or more favorite items (like our ever-expanding rock collection).
5. Give backyard critters a temporary home
The Big Explorer has been bringing critters from the backyard into our house since forever. There was the roly-poly terrarium, the caterpillars we adopted and released as butterflies, countless crickets and moths – even a praying mantis. And those were just the live ones!
6. Create your own nature photo book
We had a lot of fun making a nature ABC book when The Big Explorer was in kindergarten. Since then, we've also created digital photo albums of our seasonal scavenger hunts and family vacations.
7. Watch nature programs
Most nature shows are considered "family friendly" entertainment. Still, use your best judgment when choosing programs for your kids. We've been lucky enough to review several great programs, including Frozen Planet, Nat Geo Wild's Big Cat Week and the Gus Outdoors series.
8. Write or paint about nature
Does your explorer have a nature journal? Or maybe he or she prefers to sketch or paint a picture of nature. Get inspired by setting up shop near a window with a view.
9. Cook with nature
Let the kids get involved when you cook with items you've grown in your garden, picked up at a local farmer's market or hand picked on a farm.
10. Check out nature web sites for kids
The Explorers do not visit web sites about nature for kids. But mainly because we don't allow The Little Explorer to spend any time on a computer – and The Big Explorer only very limited amounts.
That said, there are many sites kids would enjoy. Start with the National Wildlife Federation's Ranger Rick site for kids and National Geographic Kids.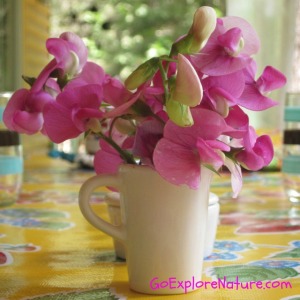 A few other interesting posts on the topic of bringing nature indoors:
Your turn! How does your family bring nature indoors?