Got dandelions? We do. So many in fact, that on a recent walk home from school, The Explorers picked an entire bouquets' worth. When I suggested we put them in a jar, the boys quickly grabbed a few additional flowers from our yard to add to the mix.
Instead of placing their collection of flowers in the jar myself, I let them try their hands at flower arranging.
(If spring hasn't quite "sprung" yet in your neck of the woods, flower arranging can be just as fun for kids with store-bought flowers.)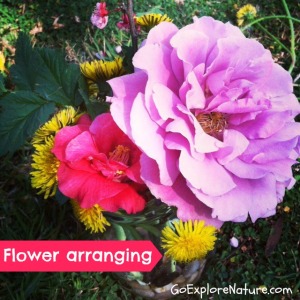 To try flower arranging with kids:
Head outside and pick your flowers. We have a couple of rules about respectful picking: Stick to items from our yard or those flowers already on the ground.
Choose a container and fill it with water. Any vase, jar, can or other container will work.
Add some decoration, if desired. We dropped some pebbles we had left over from our indoor succulent garden project into our mason jar. These worked nicely to help hold longer stems in place.
Let the kids arrange! It was up to The Explorers to choose which flowers to use and in what order to add them to the jar. (They quickly discovered that the dandelion globes they carefully saved just wouldn't cooperate in a bouquet.)
Put your flower arrangement on display. We kept our on the kitchen table, where it lasted for several days.