Earlier this week, I shared six things kids can do to help wild animals. One idea: To create a wildlife habitat in your yard.
If you have no idea what that means – or feel overwhelmed at the prospect of having to create some kind of fancy garden in your backyard – don't panic.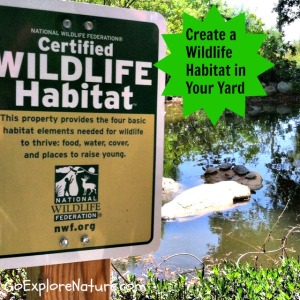 The National Wildlife Federation (NWF) has got you covered. Here's the Cliff Notes version of how to create a wildlife-friendly garden space, plus a few ways kids can get involved:
Provide food.
While adding bird feeders is one way to provide food for birds, planting native plants, shrubs and trees is even better! Not only will you be inviting birds to your yard, but butterflies, bees and lots of other wildlife as well.
Not sure what a "native" is? Do some research to learn more about what plants are native to your area (you can start here). Then head to a native plant nursery and consult with an expert.
How kids can help: Make a birdfeeder. And learn more about native plants on a tour of a local nursery.
Supply water.
While a fountain or pond will certainly attract more birds to your yard, it doesn't have to be that complicated. Place a shallow dish a little above ground level and you've made a birdbath! Make sure the water is no more than an inch deep. And change the water every few days.
How kids can help: Charge the kids with keeping the water source clean and filled.
Create cover.
Wildlife need places to go to feel safe from people (and kids!), predators and harsh weather. Think ground cover, a wooded area, rock piles, evergreens and birdhouses.  If you're not sure what counts as cover, ask at your local native plant nursery.
How kids can help: Different types of birds prefer different types of homes in different locations around the yard. Build a birdhouse that's appropriate for the birds in your yard.
Give wildlife a place to raise their young.
What's important here is that you provide a place for wildlife to not only prepare for their young, but to care for them through to adulthood. Things such as mature trees, a wildflower garden and birdhouses do the trick – provided they are appropriate for your local wildlife.
How kids can help: Plant a wildflower garden that includes sources of food for caterpillars and butterflies.
Think you've got a wildlife habitat in your yard?
The NWF invites you to become an official Certified Wildlife Habitat®. To find out exactly how to qualify – and for loads more information about how to create a wildlife habitat in your yard – head to the National Wildlife Federation.
And if you're just getting started …
Don't worry about having to do everything all at once! Creating a wildlife habitat in your yard takes time, so aim to complete one item on the list each year (more if you're feeling ambitious).
We can only check two of the above steps off the list above.  
How about you – how do you help welcome wildlife to your yard?