Fall is in the air. This weekend, the season officially begins. Which means it's time to gear up for the fall nature photo scavenger hunt! (If you live in the southern hemisphere, check out the spring version instead.)
Here's how the fall nature photo scavenger hunt works: I've come up with 30 things you and your kiddos can hunt for outside this fall. Find an item, snap a picture and check the item off your list.
Most items can be found in your own backyard or neighborhood; others might be spotted during a local nature adventure. You may choose to complete the photo scavenger hunt all at once or play all season long.
However you choose to participate, what matters most is that you and your kiddos get outside exploring nature this fall!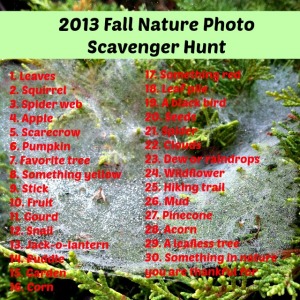 Join the fun!
You don't need to sign up to play. It's as easy as 1 – 2 – 3:
1. Print out the free Fall Nature Photo Scavenger Hunt list. Post it somewhere you'll see it every day. Then head outside and into nature with your family and start exploring!
2. Use the hashtag #fallnaturehunt if you're on Instagram.
3. If you're on Pinterest, leave your username in the comments below & follow any of my boards. I can then invite you to add your photos to the Fall Nature Photo Scavenger Hunt board.
To play on your own:
You're welcome to play along without sharing your photos publicly. After you complete the scavenger hunt, you can print your photos out and make a seasonal nature book.
You can also create your own nature photo scavenger hunt. Start with ideas from this list and add your own to make the hunt more specific to your area.