You'd love to take your kids to see the grand vistas in Yosemite, the starry skies over Joshua Tree or the gorgeous giants in Sequoia National Park. But seriously, who's got that kind of time?
What if I told you that if you can spare a couple of hours this weekend, you and the family could explore a national park right in the Santa Monica Mountains?
Yep, that's right. Whether you want to go for a hike, explore tide pools, peruse a Hollywood filming location or just enjoy a picnic under the oaks, the Santa Monica Mountains National Recreational Area is waiting.
You might be wondering why you haven't heard more about this place before.
That's where things get interesting. You see, unlike other national parks you might have been to – the kind that have one or more clearly marked, park ranger-guarded entrances enclosing some iconic landscape you recognize the moment you see it – the Santa Monica Mountains National Recreation Area is more like a patchwork of lots of smaller parks, each with its own unique features.
Which can make understanding where the park actually is and how best to enjoy it a little confusing. My best advice is to do what we did: Start at King Gillette Ranch, gateway to the Santa Monica Mountains.
What to Do at King Gillette Ranch
In case you're wondering, yes, this place is named after razor mogul King C. Gillette himself. In fact, the 558-acre Ranch includes Gillette's historic Spanish Colonial Revival style mansion, plus a long, tree-lined entry, a large pond, a formal courtyard and terrace, bridges and lawns.
They've also filmed television commercials, movies and TV shows here, most recently "The Biggest Loser." Which is all fine and dandy with the adults, but might not be so interesting to the kids.
For them, you'll want to head straight to Anthony C. Beilenson Interagency Visitor Center. There, you can get your bearings, talk to a ranger or other staff member, and learn more about the park. Plus, find out what's available for families to do during a visit.
It's a hands-on, interactive place for kids and families alike to see what makes the Santa Monica Mountains National Recreation Area so special. And this is the best place to find out where in the National Recreation Area you want to visit next.
You'll find a store inside the Visitor Center, too, which features some awesome books about local nature and California native cultures. We especially liked the Santa Monica Mountains National Recreation Area swag and brought home a magnet to add to our collection.
If you're curious, here's how we recommend you spend a couple of hours at King Gillette Ranch:
Start at the Visitor Center. Browse exhibits and talk to a ranger to find out what' going on in the park while you're there.
Earn a Junior Ranger Badge. The Junior Ranger activity book is free and available at the Visitor Center.
Explore the native garden outside the Visitor Center to spot butterflies and the wife's cottage (from the outside).
Picnic at the tables behind the Visitor Center. There's lots of shade! Another really pretty picnic spot is the old orchard and shade area near the parking lot by the dormitory building.
Wander around the grounds seeing the mansion, pond and a dormitory. Just keep in mind that you can't actually go inside the buildings, so it may not be for everyone. Keep an eye out for local wildlife – Michele walked the trails early in the morning and saw a deer and two fawns and large birds of prey on the hunt!
Hike the 1-mile Inspiration Point trail. It's a steep climb to the point, but you're rewarded with 360-degree views of the entire Ranch.
If you want to extend your day, head to nearby Malibu Creek State Park, or stop by a beach along PCH.
Practical Matters
No park entrance fee
Parking: Free 2-hour parking at the Visitor Center. If you plan to stay longer, park in the pay lot closer to the Gillette Mansion for $7. Bring cash – there's no one on site to take your money, so you'll use a self-payment "iron ranger box" instead.
Visitor Center hours: Open 7 days a week from 9 a.m. to 5 p.m. (closed some Federal holidays)
Best time to visit: Except for a few spots, this area isn't particularly shady, so try to plan visits during the coolest hours of the day
Food: None available on site, but there are picnic tables located behind the Visitor Center if you decide to bring your own
Restrooms: Located at the Visitor Center and at the Dormitory
Hosted community events: Summer campfire programs for the whole family and more! Download a copy of OUTDOORS for a listing of upcoming events.
No dogs permitted in the park
Park map: King Gillette Ranch site brochure and map (pdf)
King Gillette Ranch National Park Service page
Visit FindYourPark.com to share your park experience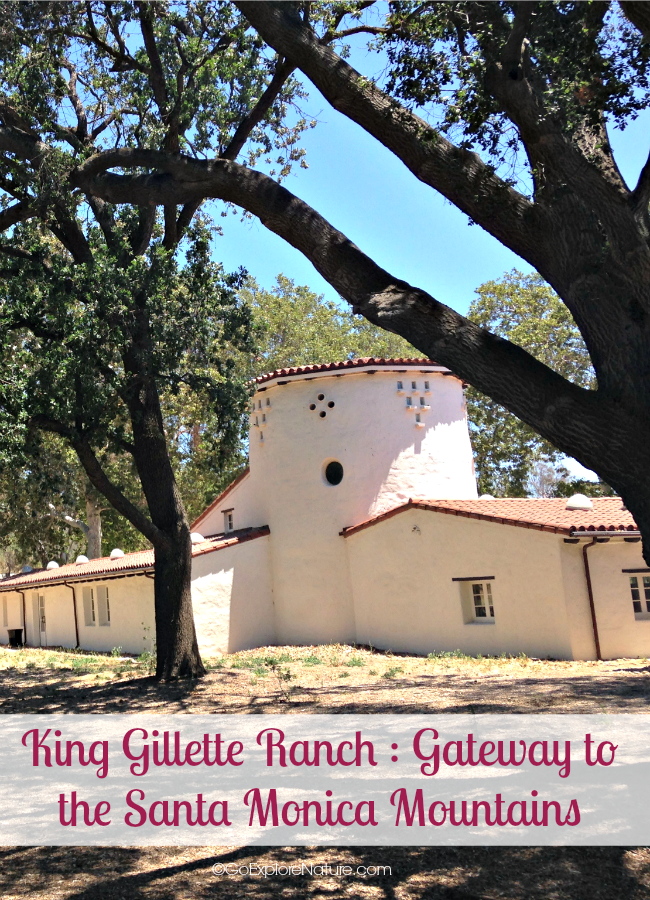 Getting There
Two nice things about King Gillette Ranch are that it's fairly easy to find and has free 2-hour parking. We prefer taking the 101 so we avoid the twistier Malibu Canyon Road.
King Gillette Ranch is located at:
26800 Mulholland Highway
Calabasas, CA 91302
map
From the 101: Exit Las Virgenes/Malibu Canyon. Head south for 3 miles. Turn left on Mulholland Highway (there's a light signal and great signage, so it's hard to miss). Entrance to the Ranch is 0.1 miles on the right.
From PCH: Head north on Malibu Canyon Road for about 7 miles. Turn right onto Mulholland Highway (there's a light signal). Entrance to the Ranch is 0.1 miles on the right.