Spending time at the beach and exploring local tide pools are some of our favorite outdoor activities in Los Angeles. We can feel the breeze on our faces, the sand between our toes and the water on our feet. Sometimes we can even see some cool sea critters up close.
But a lot of the animals that call the Pacific Ocean home can't be seen from the beach or shore. That's where a place like the Aquarium of the Pacific in Long Beach comes in handy.
The Aquarium is home to more than 11,0000 ocean animals representing nearly 500 different species. That's a lot of variety in one place – and kids like variety! The Pacific Ocean is a big place and the Aquarium does a good job of breaking it down into bite size galleries and exhibits for kids to explore. There are two levels inside the Aquarium to see, plus an entire outdoor section as well.
My kids usually like to stroll through the indoor galleries first, since that's where you enter the Aquarium. If you're not sure where to go first, do what we do: Go on a treasure hunt. The Map & Visitor Guide you receive when you enter the Aquarium comes complete with a circle-shaped embossing space on several of the pages. There are eight Embossing Stations located throughout the Aquarium, presenting kids with a fun challenge: Find the stations, emboss the Guide and discover the image.
In the outdoor area of the Aquarium, we never miss stopping by Lorikeet Forest. For a small fee, you can hand feed the birds inside the aviary some nectar. Beware that the birds will fly right up on you to drink the nectar, so it's not for everyone.
There are lots of opportunities to touch sea critters in this outside area as well, including bat rays, shovelnose guitarfish, bonnethead sharks and more. This is also where you'll find the seals, sea lions and penguins.
When the boys were younger, they loved the outdoor play area. It comes complete with a ship and sea creatures in place of the usual slides and swings. It's a great boredom buster and gives little legs a chance to run free for a while. Pack sunscreen if you're visiting in the summer – it can get hot outside and the play area isn't protected by any overhead coverage. Oh yeah, and be prepared for the kiddos to get a little wet.
The Aquarium might feel a little big and overwhelming at first, but a few hours' time is usually enough to see everything. This is a great spot to come with out-of-town guests – just try to avoid doing so during the summer and holiday rush (or come early).
Notes for Families
Recommended age: 3 and up
Many exhibits stretch from floor to ceiling, so even little kids can see what's inside the tanks. And the outdoor play area is ideal for littler kids, with a boat you can steer and sea creatures to climb on. Older kids may enjoy the variety of educational presentations. Best of all, there are plenty of opportunities to touch things – from rays and starfish to lorikeets.
Ideal length for a visit: 2 to 3 hours
There's plenty to see here, but the place isn't so big that you can't explore it all. Two to three hours is enough to not feel rushed, but still have time to see everything your child is interested in.
Don't miss!: Embossing your visitor guide at eight stations throughout the Aquarium, feeding lorikeets and exploring all of the touch tanks.
Best time to go: Weekdays (but not during the summer)
The Aquarium website says its biggest crowds can be found on weekends, during holidays and the summer. If you must visit during the busy times, you can beat the crowds by coming early – between 9 a.m. and 10 a.m.
What to eat: BYO picnic, dine in or head to Bubba Gump Shrimp Co.
You can't eat your own food inside of the Aquarium, but the large grassy area with picnic tables in front of it is the perfect setting for a picnic. Or make it easy on yourself and dine it at the Aquarium or at Bubba Gump Shrimp Co., located right next to the parking structure.
Daytrip Costs (for a family of 4)
Parking ($8)
Aquarium admission ($28.95 per adult x2, $14.95 per child ages 3 through 12, x2 = $87.80)
Lorikeet nectar ($3 per child x2)
Lunch (free if you picnic, estimate $40 if you eat at the Cafe)
Total: $141.80
To save: Skip lunch inside the Aquarium and bring a picnic instead. And consider a Family membership – at $125/year, it pays for itself in just two visits.
Practical Matters
Aquarium is open 9 a.m. to 6 p.m. daily; closed on Christmas Day (December 25) and during the weekend of the Grand Prix of Long Beach (usually early-to-mid April)
2015 admission fees: $28.95 for adults, $14.95 for kids 3 through 11; kids under 3 are free
Admission fees includes entrance into all the Aquarium galleries, the touch tanks and the aviary; there are additional fees to hand feed the birds, and to watch a 3D/4D movie
Aquarium map & visitor guide & presentation schedule
Parking is $8 with validation; the parking structure is located on the water side of Shoreline Drive between Chestnut Place and Aquarium Way
Restrooms are available on both levels inside the Aquarium & in Shark Lagoon; all bathrooms have changing stations
All exhibits are stroller-accessible though I recommend leaving yours at home; when it gets crowded, it can be tough to maneuver & wait times at the elevators can be long
There are several options for refreshments in the Aquarium, including Café Scuba on the second level, Bamboo Bistro in the outdoor area & the Coffee Cart in the Main Hall; plenty of kid-friendly items, but the prices aren't cheap
The large, grassy area outside the Aquarium is perfect for snacks, a picnic, and a chance to run around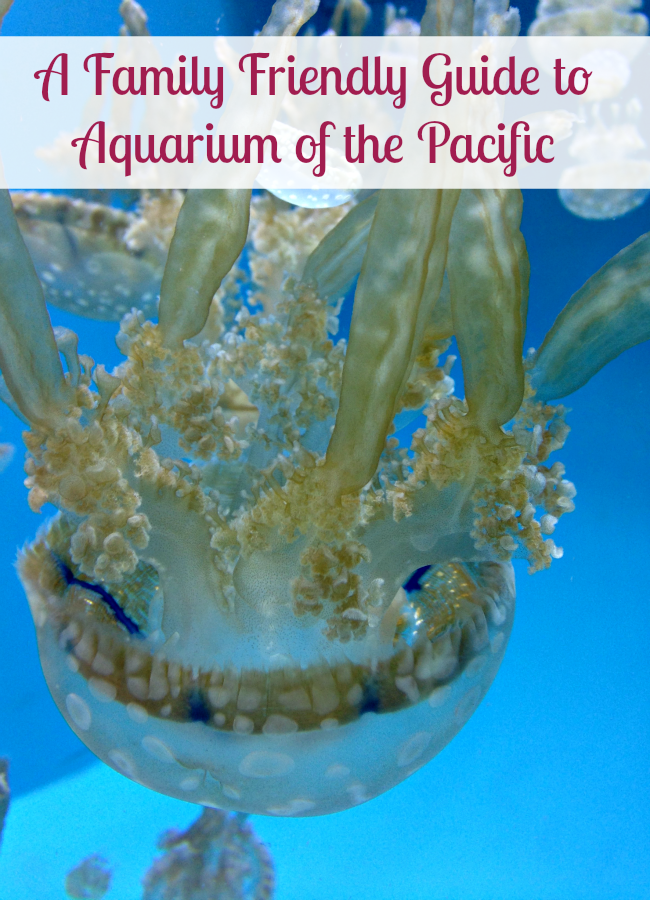 Aquarium of the Pacific is located at:
100 Aquarium Way
Long Beach, CA 90802
map
If you're looking for more aquariums in Los Angeles, check out: