We all know that raising a family in Los Angeles isn't cheap, right? And while I wouldn't call myself a bargain hunter by any means, I know a good deal when I see one.
Take the California Science Center, for instance. Admission is free (yep, free!) and it's open nearly every day of the year. It's a hands-on kinda place with interactive exhibits that range from designing cars to touching an iceberg and even hosting your own local news broadcast. My boys have enjoyed going from the time they were toddlers and it's still the No. 1 place they ask to visit any time they're on break from school.
What makes it so great? For one thing, there's a ton of variety. Four different permanent exhibitions in fact: Ecosystems (for aspiring ecologists), World of Life (where you'll see how living things work), Creative World (for inventors and innovators) and Air and Space.
Second, the Science Center exhibits are meant to be touched and experienced, making your time there interactive. (Yes, that does mean you'll need to bring your patience and encourage turn taking.)
And lastly, the for-fee options the Science Center hosts such as the IMAX films, Special Exhibits and Space Shuttle Endeavor are pretty darned impressive.
Notes for Families
Best time to go: During the weekdays in fall, winter and spring, the best time to visit is after 1 p.m. when the school groups have left. On weekends, aim to be there as early as possible.
Don't miss!: Kids 7 and under will especially enjoy the Discovery Rooms located in Creative World, Ecosystems and World of Life, so head there first. And whatever you do, do not miss seeing the Space Shuttle Endeavor!
If you've got kids of different ages, bring along some help. The Science Center is a really hands-on, take turns kind of place. Kids of different ages have different skills, abilities and interests. It'll be easier to let each child see and do what he most enjoys if you aren't trying to wrangle multiple kids.
While you're there, you can enjoy lunch or a snack at one of the many picnic tables set up outside the Science Center. You can even enjoy a stroll through the Exposition Park Rose Garden!
Practical Matters
Hours: California Science Center is open 10 a.m. to 5 p.m. daily; closed on Thanksgiving, Christmas (Dec. 25) and New Year's Day (Jan. 1)
Cost: The Science Center's permanent exhibition galleries are FREE; additional for-fee attractions include IMAX films and Special Exhibits
Parking: $12 (cash only) and is located in the parking structure at the corner of 39th Street and Figueroa; the Science Center is also accessible via the Metro Expo Line at the Expo Park/USC station
Suggested length of visit: Younger kids may tire after a couple of hours, older kids could easily spend an entire day here
Restrooms: Available on all three levels
Food: There are several options including The Grill (with hot and cold items), Market (prepackaged sandwiches, salads, fruits, snacks and bottled water) and Coffee Bar (coffee and sweet treats)
Stroller-friendliness: Elevators are available to accommodate strollers, but I recommend leaving yours at home; this is an interactive, hands-on place that requires freedom of movement for kids
Daytrip Costs (for a family of 4)
Membership Perks
Although entrance to the Science Center is free, the Explorer level membership costs just $65 and comes with a TON of perks that can save you big time:
Invitations to members-only exhibits and IMAX viewings (and future discounts)
Two free parking passes ($24 value)
Four free IMAX vouchers
Discounts on restaurants, the Science Center store, classes, camps and more!
PLUS: One of the best parts is that membership gets you access to free admission to more than 300 other science centers and museums nationwide!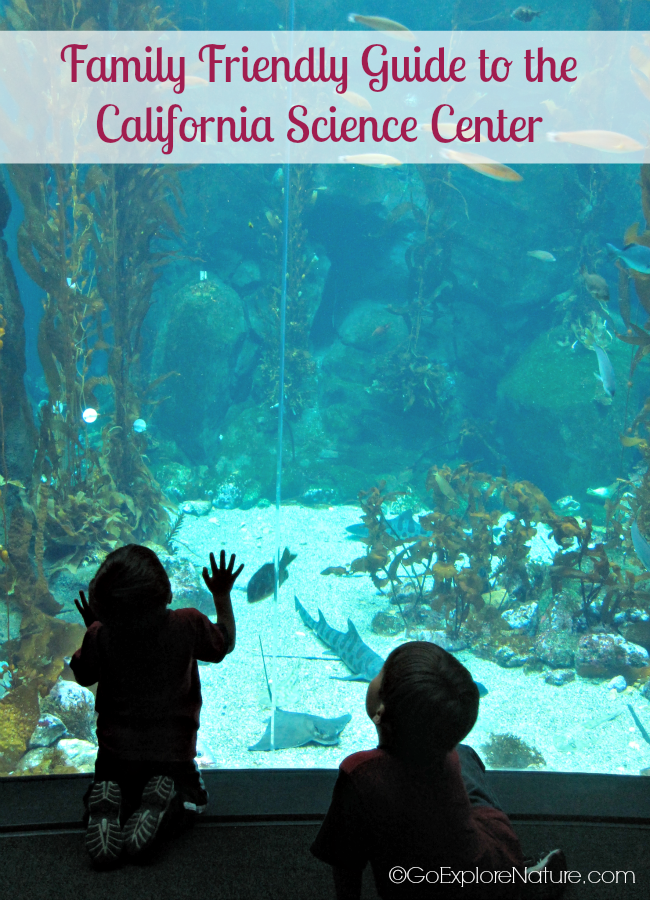 The California Science Center is located at:
700 Exposition Park Drive
Los Angeles, CA 90037
Directions
When you visit the California Science Center, you might also want to check out:
Exposition Park, which features the Rose Garden & a great playground just steps from the Center