My friends and I are always looking for fun family activities that don't break the bank. Annual passes are one way to make outdoor activities more affordable. Another option? Take advantage of these free guided outdoor programs for Los Angeles families.
Not only are these free events that get your family outside, they are hosted by people with lots of experience and expertise that you might not have. Which means you and the kids get to learn new stuff! Maybe even meet like-minded people. Not to mention explore new places and try new things.
Events are often added and updated by the organizations below, so be sure to confirm the details by checking the website links I've gathered here before heading out for any activity.
Find Your Park
The Mountains Recreation and Conservation Authority (MRCA) hosts a ton of free programs in and around the L.A. Mountains. Go on a ranger-led hike, learn some Chumash history, discover more about our local wildlife or attend a summertime campfire. Sign up for the MRCA newsletter to receive weekly emails about upcoming events or view the calendar online.
See the Night Sky
Free public telescopes are available each evening the Griffith Observatory is open and skies are clear. Telescope demonstrators are available to help visitors.
One Saturday a month, the Observatory hosts "star parties" from 2:00 p.m. to 9:45 p.m. Volunteer amateur astronomers provide free use of telescopes and other equipment, allowing families to look at the sun, moon, stars and planets.
Each month the Observatory offers a sunset hike led by a Park Ranger and a Museum Guide. The 1/2-mile walks last about an hour and include stops along the way to discuss the highlights and history of Griffith Park and objects visible in the evening sky.
Tour Tide Pools
Go Bird Watching
The Los Angeles Audubon Society hosts bird walks appropriate for kids 6 and up. Events are held at a variety of L.A. locations on the 1st Saturday of the month and on the 1st, 2nd and 3rd Sundays. No advanced sign-ups required.
The Santa Monica Bay Audubon Society offers free, guided family birding walks at Malibu Lagoon State Beach every fourth Sunday of the month at 10 a.m., rain or shine. No advanced sign-ups required.
Wild Wings Backyard Nature Store – located in the San Fernando Valley – leads bird walks once a month. Locations vary throughout Los Angeles depending on migration patterns and time of year dictates. All levels of birders are welcome. Sign up for the store's newsletter to find out about upcoming events.
Take a Nature Walk
The Palos Verdes Peninsula Land Conservancy (PVPLC) has preserved more than 1,600 acres of open spaces on the Peninsula. This includes 10 preserves, 3 reserves and 2 nature centers – which adds up to a wealth of opportunities for getting outside in the South Bay.
Volunteer naturalists, historians and geologists lead monthly, guided nature walks through the preserves and nature centers. Check the schedule for walk topics, dates and times.
Other events available to the public include bird walks, night hikes, tide pool walks and (for-fee) family activities at the George F. Canyon Nature Center. See the PVPLC's complete calendar here.
And if you're interested in ongoing nature classes and workshops (for a fee) for kids in Los Angeles, check out this post from Karilyn of No Back Home. The post also provides information on outdoor volunteer opportunities for L.A. families.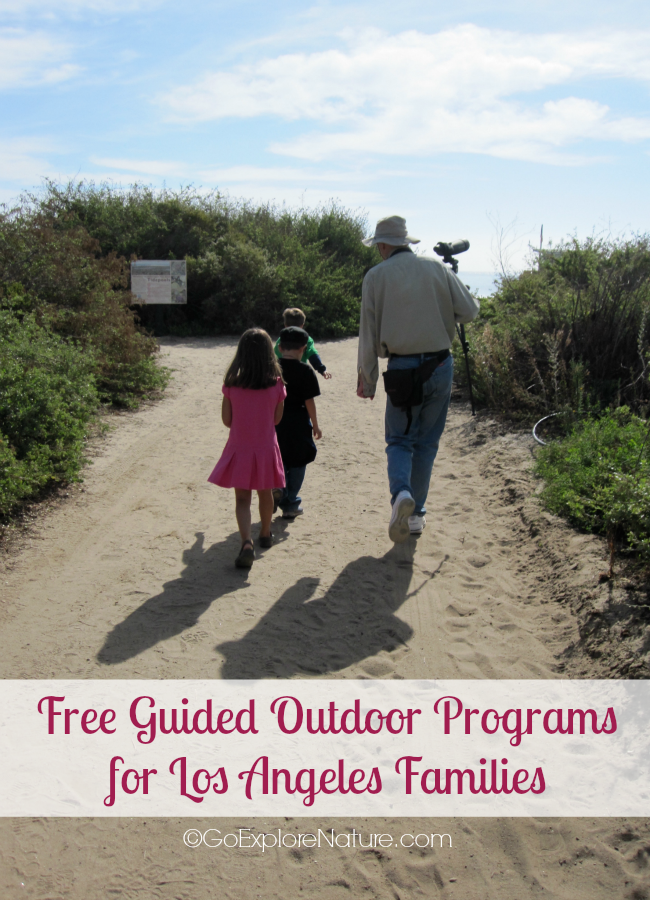 If you're looking for more ways to get outside in L.A., be sure to read my big list of outdoor adventures for Los Angeles kids.