Picking oranges seems like a quintessentially Southern California activity. Growing up, I remember picking (and eating!) oranges right off the trees in our backyard.
But my kids aren't so lucky. We don't have any orange trees in our backyard and we don't have any nearby friends with orange trees in their backyards, either.
So what's a mom to do? Search for U-pick oranges in Los Angeles! That led me to one spot: Heritage Park in La Verne, which is one of the last working orange groves in Southern California where visitors can pick fruit right off the tree every winter.
The 1.1-acre Heritage Park includes Weber Ranch, home to a small grove of about 150 orange trees. The ranch is also filled with haystacks, old wheel barrels and rusted cars that are reminiscent of La Verne's old days and add a ton of charm, especially for the youngest family members.
This is a very quaint place to spend a couple of hours. Unlike many other U-pick farms we've been to, there aren't any other big draws aside from the oranges – no petting zoos, huge fruit stands or other attractions to speak of.
Simply enter the gates and walk over to the stand where you can purchase a bag for picking – one is more than enough for an entire family. Then grab a picker (it's free) and head over to the trees and start picking.
Orange picking isn't all that complicated, making it a perfect outdoor activity for kids. Look for the orangest oranges, usually found high in the tree. A long picker can help you grab the ones you want (and even my 7 year old was able to use one safely with some assistance). The only warning for little ones is to leave the oranges that have fallen to the ground on the ground.
Be advised that the bag will get heavy as you add oranges, so if you're planning to purchase more than one, consider bringing a wagon (or at least a second set of hands).
The park adjacent to the ranch has picnic tables and a playground that make a great spot to run around and play after you finish picking.
Notes for Families
When to go: The orange picking season usually runs from Jan. through mid-March, or until all the fruit is gone; always call ahead to confirm availability 
Suggested length of visit: Allow about an hour for picking – then more if you want to play in the park or have a picnic
Where to eat: This is a perfect spot to come mid-morning. Bring along a picnic and enjoy it in the park after you pick oranges. Or you can skip the park and head down to Foothill Blvd. where there are food options to accommodate almost every budget.
Practical Matters
Hours: Saturdays from 9 a.m. to 3 p.m.
Cost: Entrance to Heritage Park is free; cost to pick is $5 for an eight-pound bag (use of a picker is free)
Parking: Ample, free street parking available
Restrooms: Flush toilets available
Food: No food or drinks available for purchase on site, but you are welcome to enjoy a picnic lunch in the park
Stroller-friendliness: The uneven dirt terrain isn't stroller friendly
Heritage Park is located at:
5001 Via De Mansion
La Verne, CA 91750
(909) 239-9005
Directions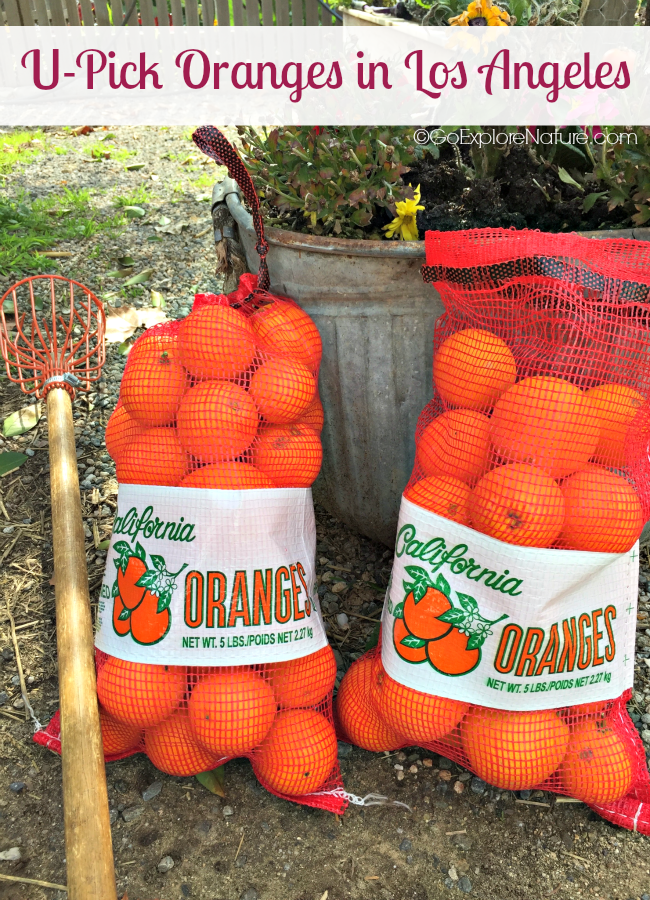 We combined our visit to Heritage Park in La Verne with a hike at Monrovia Falls, about a 25-minute drive west. A couple of other places in the area that we haven't visited yet but look fun: