I've said it before and I'll say it again: One of the keys to having enjoyable hiking experiences with kids is to keep it fun. And that's just what we found plenty of at Red Rock Canyon Park in the Santa Monica Mountains.
The drive in to the park alone lets you know you're in for something different. It's an unpaved, narrow, windy, bumpy road that had me doubting my sanity before we finally reached the parking area, when I breathed a huge sigh of relief.
But then the fun begins. Just a few paces from the trailhead, we saw 20 million year old fossilized scallop shells in a huge rock. As we continued, there were all kinds of cool rock formations in vibrant red hues right along the trail. And then – at less than a mile into our walk – there were caves begging to be explored.
Big and little climbers alike will love the opportunity to hop up on the sandstone formations and see how high they can get. Although there aren't any signs pointing you to all this fun stuff, you can't miss it – it's adjacent to the trail on your left-hand side.
There are two basic trails in Red Rock Canyon Park: Calabasas Peak Trail and Red Rock Trail. The first is a wide fire road that continues 1.2 miles from this natural play area to a T-junction with the Calabasas Peak Motorway. This can serve as a turnaround point, or you can continue another 1.1 miles to Calabasas Peak.
This didn't sound quite as interesting to me as option 2: The Red Rock Trail. To find it, look for an unlabeled turnout on your right just a little bit beyond the caves. It doesn't look like much, but when the path narrows and heads up a steep staircase, you know you're in for something special.
This trail will take you some 1.2 miles up, with your turnaround point an overlook that gives you a nearly 360 degree view of the entire surrounding area. There isn't a sign to let you know you've reached the turnaround but it's sort of obvious; the trail continues beyond but begins to climb back down into the canyon on the other side.
The path is steep in parts, so we took pit stops to climb up more sandstone boulders, walk a stone labyrinth and take in countless breathtaking views. There are all kinds of amazing colors here, from the red that gives this park its name to whites, tans and browns – plus greens if the weather has been kind.
Honestly, I felt like we played a lot and snuck in some hiking while we were at it.
Highlights
Distance: 2.4 miles roundtrip from the trailhead to the overlook on the Red Rock Trail
Difficulty: Easy to moderate (things get steep quick once you head onto the Red Rock Trail)
Best time of year to go: Anytime except summer (or hot days) as the trail is not shaded
Trail condition: Dirt trail is wide and level at the start, but turns into a single track (wide enough for just one person) on the Red Rock Trail; not stroller-friendly
Don't miss! Lots of fun geological features to explore including fossils, small caves and sandstone boulders perfect for nature play
Suggested time: About 2 hours, which includes time to reach the overlook on the Red Rock Trail, and to play and explore a bit along the way
Recommended gear: A hat and water are a must, especially on warm days
Practical Matters
No park entrance fee
Parking: $5 cash or check – there's no one on site to take payments, so use the self-pay "iron ranger box" at the parking lot instead
Restrooms: Located adjacent to the parking area
Picnic tables: Several located near the parking area
Pet friendly: Dogs welcome, as long as they are on a leash
Park map: Directions and trail map
Managed by: The Mountains Recreation & Conservation Authority
Getting to the Trailhead
Red Rock Canyon Park is roughly 35 minutes north of Santa Monica. From the Pacific Coast Highway, head north on Topanga Canyon Blvd. Turn left onto Old Topanga Canyon Road. Continue almost 2 miles to Red Rock Road and turn left. Stay on Red Rock Road for about a mile as it becomes narrow and windy – in parts wide enough only for a single car. Take it slow and continue as the road eventually becomes unpaved and seriously bumpy for cars with low clearance. (We were fine in our Honda CR-V.)
There are two parking areas along the road, but families will want to head to the furthest one in, as this puts you right at the trailhead. If it's full, you can either wait for someone to leave or turn around and look for a spot further down the road you came in on.
Red Rock Canyon Park is located at:
23601 W. Red Rock Road
Topanga, CA 90290
Directions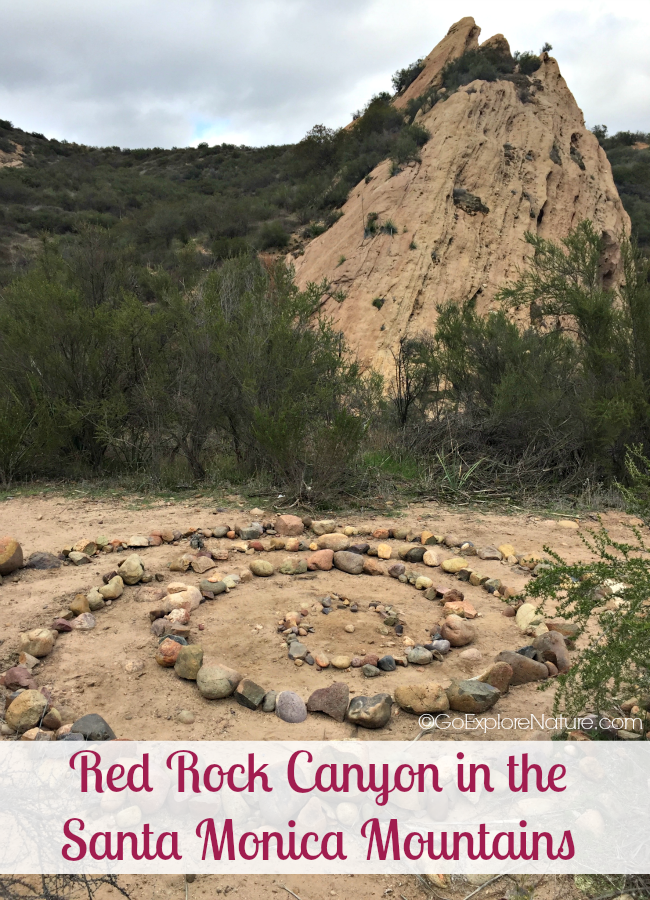 For more inspiration for family hikes in Los Angeles, check out: