Los Angeles is synonymous with movie stars and Hollywood. When folks visit for the very first time, they want nothing more than to see a famous actor up close, watch a live television show taping, or maybe even stumble upon a film shoot at some exotic location.
Those of us who call this place home know just how much more Los Angeles has to offer. This list of our favorite places to explore nature in Los Angeles provides a sneak peek at all there is to see and do beyond the big (or little) screen.
Favorite Animal Encounter: Whale Watching
Southern Californians have the unique opportunity to see whales off the coast all year round. There are certainly spots you might be able to spot whales from shore, but we prefer to take a whale watching excursion at least once a year to get up close and personal with these mighty giants.
What kids will like: It can be exciting to get on a boat and ride out on the ocean. Not only is it exciting to spot your first whale, but the dolphins and other sea life you encounter are fun, too!
Favorite Beach: El Matador State Beach
There's a reason this beach is one of the most photographed in California. It's stunning. Time your visit for low tide and El Matador is great for bird watching, sand play, tide pool fun and cave exploring. Just be sure to check the tides before you go – arrive during hide tide and the beach will be inaccessible.
What kids will like: Enjoy a picnic in a sea cave during low tide. Then explore the rocks and shoreline; the marine life is teeming here.
For more of our favorites, check out Best Beaches for Families in Los Angeles.
Favorite Garden: The Arboretum
The Arboretum is a 127-acre botanical garden with something for everyone, even kids. Sure, there are plenty of beautiful plants and flowers to see. But there's also a waterfall, a lake, a pond, several grassy lawns begging to be run (or rolled) on – even an enormous willow sculpture that you can play in. And then there's the wildlife, from peacocks and ducks to turtles and other migratory waterfowl that call this place home.
What kids will like: Head to the pond and waterfall and hang out for a bit. When my kids were younger, they pretended to "fish" and enjoyed exploring pond life.
Favorite Hike: Will Rogers State Historic Park
The 3-mile Inspiration Loop Trail is our favorite family hike at Will Rogers State Historic Park. From Inspiration Point, you can see the Los Angeles Basin from downtown to the ocean.
What kids will like: The huge grassy area in front of the Ranch House is perfect for playing and running.
For more on LA hikes with kids, read our list of toddler friendly hikes in Los Angeles.
Favorite Park: Griffith Park
With over 4,210 acres of both natural chapparal-covered terrain and landscaped parkland and picnic areas, Griffith Park is the largest municipal park with urban wilderness area in the United States. Sure, there are hiking trails and fantastic views. But there's so much more – like the Los Angeles Zoo, the Griffith Observatory, Travel Town, the Autry, pony rides and more.
What kids will like: No two visits are ever the same! For a family friendly hike, head to the Bronson Caves. Or pack a picnic and visit the Old Zoo.
Favorite Museum: The Natural History Museum of Los Angeles County
The Natural History Museum of Los Angeles County is one spot in LA that we return to time and time again. It is the spot in Los Angeles to see dinosaur fossils, and we've been coming to see them since the kids were in strollers.
What kids will like: The recent additions of a nature lab and nature gardens have turned this place into a hands-on living museum that helps kids connect where they live (Los Angeles) with the natural world. The dinosaurs are pretty popular, too!
Favorite National Park: Santa Monica Mountains National Recreation Area
Whether you want to go for a hike, splash in the waves, peruse a Hollywood filming location or just enjoy a picnic under the oaks, the Santa Monica Mountains National Recreational Area is waiting. The Santa Monica Mountains offer easy access to some fairly wild spaces. It's your very own national treasure right here in Los Angeles!
What kids will like: Unlike other national parks you might have been to, the Santa Monica Mountains National Recreation Area is more like a patchwork of lots of smaller parks, each with its own unique features. Beaches, waterfalls, tide pools, an old west town, bird watching and lots, lots more!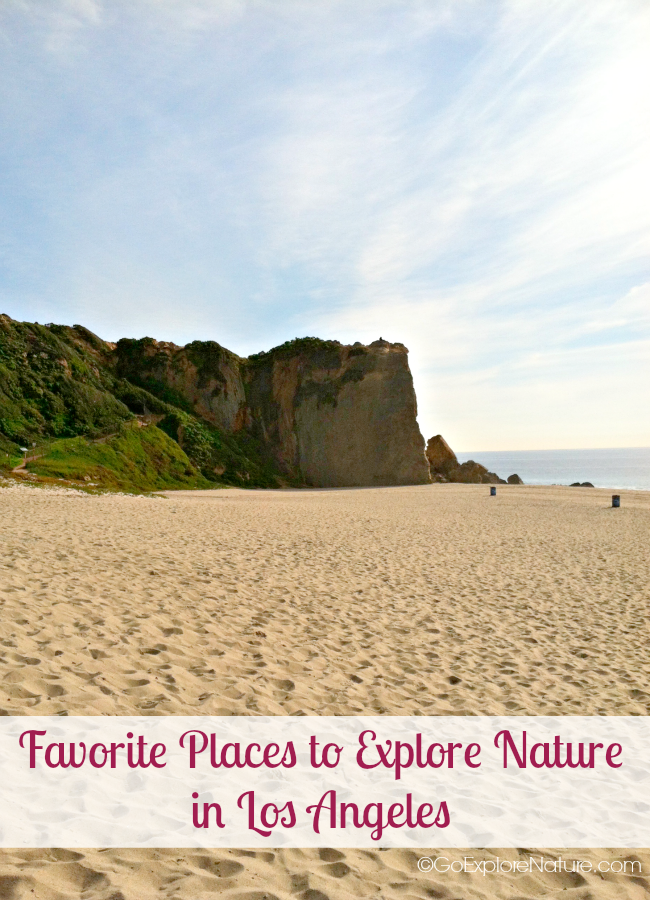 For more ideas for outdoor fun in LA, read The Big List of Outdoor Adventures for Los Angeles Kids.