Summer is full of warm days that blend right into slightly cooler evenings – most of which are perfect for being outside. Combine that with less pressure to get the kids to bed at a certain time and you've got a winning combination. Time to head outside and explore!
A few tips for exploring nature at night with kids:
Keep it short and simple. Since our kids are usually low on energy at the end of the day, we try to keep our nighttime exploring shorter than daytime activities.
Dress for the weather. Even though daytime temperatures may be high, nights get cool fast, so be prepared with jackets and hats if needed.
Be safe! Reflective clothing, glow sticks and/or flashlights are also important to help make sure others can see you out there!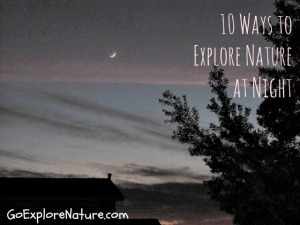 1. Gaze at the night sky.
Choose a clear night when the moon isn't full and head outside to watch the stars come out. Count how many you see. Look for constellations and planets, too.
2. Attend an event at a local nature park.
Check your local state parks, national parks, nature centers and more for family friendly evening programs. I discovered a ton of interpretive programs, night hikes and campfires are available through our local mountain recreation and conservation authority.
3. Go for a flashlight walk.
Mix up the usual walk around the neighborhood by waiting until the sun goes down and going for a flashlight walk. What kinds of things can you discover at night that you don't see during the day?
4. Play the listening game.
What does the night sound like? Play the listening game and find out! Here's how we play: I tell The Explorers that I'm going to count to 20 in my head while they close their eyes and just listen – no talking. When time's up, they can tell me everything they heard. Then we'll swap and they count while I listen.
5. Search for nighttime critters.
Your kids might already be familiar with the animals they see around your neighborhood during the day. But what happens at night? See how many unique animals you can find. Look for spiders, owls, moths, lightening bugs, raccoons, opossums and more.
6. Camp out!
Whether you camp out in your own backyard or spend a night or two at an official campsite, sleeping in a tent is one of the best ways to commune with nighttime nature.
7. Light a backyard campfire.
About all you need for a successful backyard campfire is a fire pit, some wood to burn and the family. Bonus points for bringing out the s'mores and telling a story or singing a song around the campfire.
8. Host a backyard movie night.
If you've got access to a digital projector and a DVD player, host a backyard movie night. Choose a family friendly nature-themed film – and don't forget the popcorn and s'mores.
9. Create your own nighttime scavenger hunt.
Make a list of things you think you might find on a short walk through your neighborhood at night. Then head outside and see how well many you can find.
10. Watch a sunset.
Any place right outside your front door will do. But if you happen to have some extra time, consider picking a special spot (we like the beach) to watch a sunset. You can check the times for sunsets worldwide here.
How do you like to connect with nature at night?