When it comes to Mother's Day, I love helping the kids create something extra special for their grandmas. I especially enjoy crafts that are simple and involve spending time outside. Here are a few Mother's Day nature crafts just right for kids. I promise – we've tried each one!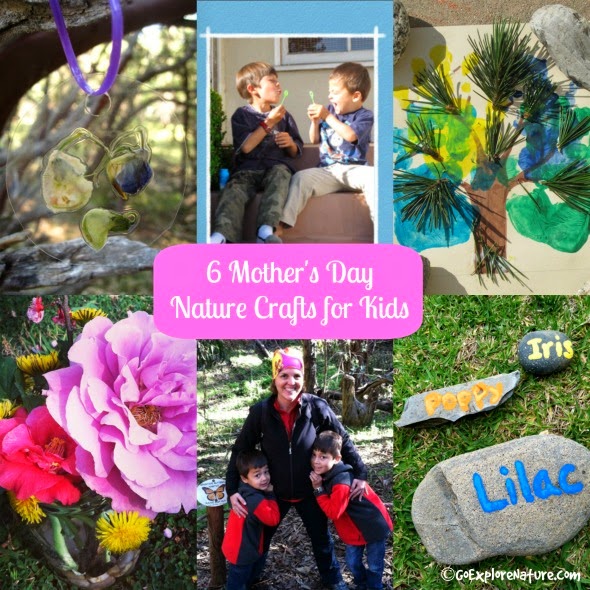 6 Mother's Day Nature Crafts for Kids
(as shown left to right in the image above)
1. Pressed flower keepsake
Instead of a bouquet of roses, kids can make pressed flower keepsakes using hand picked flowers. Use clear contact paper to turn your pressed flowers into bookmarks, framed art or whatever you can dream up.
2. Digital photo book
Every year I make my mom and stepmom a photo book of The Explorers' outdoor adventures during the previous year. Last time, I finally decided to print myself a copy, too!
3. Handprint tree
We made this adorable handprint tree a few years ago for dad, but of course it works just as well for mom. To make it, you'll need finger paint, construction paper, glue and some natural items such as leaves or petals.
4. Make your own flower arrangement
Even young kids can create their own flower arrangement from hand picked flowers in your yard or neighborhood – or even from store bought bouquets.
5. Go on a nature date
Getting to go on a nature date with my kids is far and away my favorite idea on this list. Pick a place your children especially enjoy. Then have fun, be silly and laugh.
6. Garden markers
If mom likes to tinker in the garden, hand-painted rock garden markers are a fun idea. You can write the names of items growing in the garden or cute critters such as ladybugs, bees and butterflies.