If you're dreaming of a garden come spring, there are a few things you can do right now to get ready. The kids can help plan your backyard garden, you can talk about what seeds you want to plant – you can even start a few seeds indoors.
We've been busy prepping some fun elements for our garden. One such item: Garden markers.
Garden markers can be made simply by writing with a pen on Popsicle sticks, then sealing them with an acrylic coating to make them weatherproof. Or they can be a little more whimsical.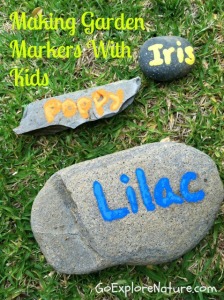 When we planted our native garden last year, we made garden markers with rocks. All we needed was some paint, brushes and a spray acrylic coating. (We'll be making more this year for our butterfly garden.) Their small size is perfect for placing near flowers and in containers.
I love that the garden markers help the kids learn the names of the things we're growing. I wish I'd let the kids write and decorate these – one thing we'll be doing differently this year.
In The Big Explorer's school garden, we got a little more artsy. We invited each of three kindergarten classes to paint their own garden marker on an 8"x12" wooden board.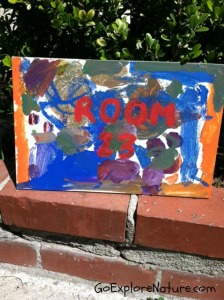 We'll add wooden stakes to these and place them in each classroom's raised planter box.
Looking for something the older kids can create? I've got my eye on these stick garden markers my dear nature friend Marghanita shared.
What kinds of garden markers do you like to create with your

kids

?