I'm not gonna lie to you: It doesn't feel much like fall here in Los Angeles.
Sure, the days are getting shorter. And yes, the evenings are a little cooler than they were last month. But a recent string of 80+ degree days has us trying to ride out the last bits of summer just as long as we can.
Of course, the calendar reminds us that fall is coming soon – and many of you are already seeing proof of it. Which means that we've been hard at work coming up with our fall fun list.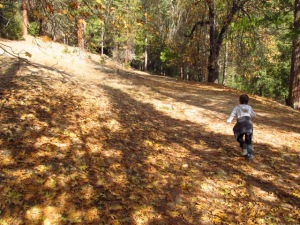 Fall fun in Yosemite, 2011
I imagine a lot of you create a seasonal bucket list. What makes ours different?
All ideas are either kid-generated or kid-approved ('cause sometimes I have fun ideas The Explorers may not think of on their own)
The list is visible in a high traffic area of our home – think poster-sized butcher paper hung up in the hallway between the kids' rooms
We turn our want to's into our to do's. Instead of thinking of this list as a wish list, we make it our go-to guide for fall planning.
This strategy worked pretty well this summer. We came up with more than 30 ideas and wound up completing about half of them. Our list helped us to be intentional in making choices about how we spent our time.
Bonus: More than a handful of summer visitors spotted our list (it's posted just outside our guest bathroom) and were inspired to make their own. Yay!
Backyard Nature Fun
Make a scarecrow
Create a pumpkin planter
Decorate or carve a pumpkin
Roast pumpkin seeds
Bake an apple and/or pumpkin pie
Host a snail race (if we can find some critter contestants!)
Go trick-or-treating
Set up a backyard weather station
Build a fort
Enjoy a backyard campfire
Bake holiday cookies
L.A.-Area Day Trips
Nature Travels
Visit the cabin in Yosemite (and maybe make it to Glacier Point since we missed going this summer)
Your turn! What's on your fall fun list?