I love volunteering at The Big Explorer's elementary school. My favorite assignment? Getting students outside and into the school garden. So far this year, we've taste-tested apples, talked about (and planted) peas from seed, and made garden markers. We're clearly just getting started.
Thankfully, there are a lot of resources out there to help parents and educators alike to inspire kids in the garden. Wings, Worms, and Wonder is one such resource.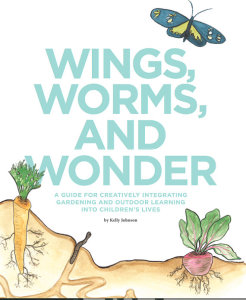 Wings, Worms, and Wonder is a guide for teachers, parents and community gardeners. It features 36 art- and garden-based activities for use with school-age children, complete with child-tested lesson plans featuring background information, materials, procedures, follow up ideas and extension activities for each.
Author Kelly Johnson knows a thing or two about the topic of kids in the garden. She's a gardener, artist, surfer, musician and seasoned Montessori teacher. And among other accomplishments, Johnson has participated in the development and facilitation of multiple successful school and community gardens.
What's inside Wings, Worms, and Wonder?
If you've got a garden and want to know what to do with it, this book can help.
In the words of Johnson, Wings, Worms, and Wonder "provides the advice and inspiration needed to create meaningful outdoor experiences with elementary children through arts and organic gardening, with dashes of biology, botany and ecology."
The 180-page guide comes complete with garden lesson plans, color illustrations, anecdotes, even friendly advice. Sections include:
Getting Started: A brief introduction to school gardens and how to get yours student-ready.
Nature Journaling: Why a nature journal is important and how to make your own.
Wings: Information and activities centered on butterflies, bugs and birds.
Worms: "In the Soil" discusses soil and worms, "On the Soil" plant identification, anatomy and physiology, and "Of the Soil" sprouting and growing activities.
Wonder: Activities to provide the "hook" that will inspire and excite kids to build a future in environmental education and natural history studies.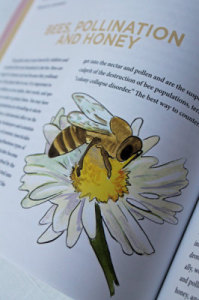 I especially love the section on gathering your field materials. Johnson's must-have list includes things like bug viewers, pencils, rulers, pocket field guides, collection baskets and a nature journal.
Some of the lesson plans are a little beyond my skill base or require materials I don't have (such as butterfly and moth specimens). But others are spot on – discussing helpful versus harmful garden bugs and learning about local wildflowers, for instance.
Wings, Worms, and Wonder retails for $44.95.
How to use Wings, Worms, and Wonder in your own backyard
As long as you'd like to grow a garden with kids, this book can help. Wings, Worms, and Wonders is packed with a lot of practical information and facts that are useful whether you're an educator, parent or both.
Although you might not be able to complete all 36 activities as designed, there's no reason you can't tailor the tasks to your kids' interests and abilities.
Win a copy of Wings, Worms, and Wonder!
Here's the best part! Author Kelly Johnson has kindly agreed to offer a free, signed copy to one lucky reader!
To enter, leave a comment sharing your favorite thing to grow or do with kids in your garden. Good luck!
This giveaway will run through midnight PST on Wed., March 20, 2013*.
You must include an email address with your comment. Entries without an email address will not be included. (If you prefer, you can send me your comment by email.)
This giveaway is open to U.S. residents only.
The winner will be chosen using the nifty random number generator at random.org.
Winner will have 24 hours to reply to my notification. If I don't hear back after that, I'll pick another winner.
*Update: This giveaway is now closed. Thank you for all of your wonderful entry comments!
Note: I received a free copy of Wings, Worms, and Wonder in exchange for providing my honest review with you here. Read my full disclosure policy for more information.