Just before the start of each season, the hubby, Explorers and I get together to create our family's seasonal outdoor fun list.
What's an outdoor fun list? It's a bucket list of things you'd like to do outside during that season. Making one is an excuse to talk about all the fun coming in the weeks and months ahead – especially handy when the weather is still cold and icky out.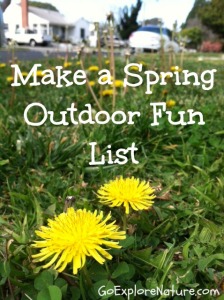 A few tips for creating your own spring outdoor fun list:
Get creative.
Think about some of the things your family did outside last year that you'd like to repeat. Consider any special occasions or planned vacations. Add to that a few new ideas and your list will be full before you know it!
I like to divide our list up into three parts: activities we can do in our backyard, those that are nearby nature activities, and those that involve travel.
If you need a little inspiration, do some research. I usually scan a couple of my favorite books, like It's a Jungle Out There! 52 Nature Activities for City Kids, 15 Minutes Outside and Fed Up With Frenzy. I also take a look at some of the things I've shared here, like:
Keep it simple.
Long lists can be overwhelming, so be realistic about what you can accomplish throughout the season. You can always add ideas as you go along. We aim to do one to two activities from our fun list per week.
Involve the kids.
The ideas we come up with are at least 90% kid-generated; the other 10 percent are kid-approved ('cause sometimes I have fun ideas The Explorers may not think of on their own).
Make the list visible.
The Explorers love to hand write our lists and add doodles, too. Then we hang our spring outdoor fun list somewhere we'll see it every day. Ours has a spot of honor of the inside of our front door.
Schedule time to go exploring.
Instead of thinking of your spring outdoor fun list as a wish list, make it your go-to guide for spring planning.
Ready to see what our family's list looks like this spring? Here ya go:
Backyard Nature Fun
Build a bird house
Hang a new bird feeder
Create a small butterfly garden
Adopt a caterpillar & release a butterfly
Plant a vegetable garden
Plant sunflowers
Make some signs or artwork for the garden
Create a mud play space
Go on a puddle walk
Build a fort
L.A.-Area Day Trips
Hike to a new-to-us waterfall
Go strawberry picking
Attend a Dodger game
Head to a local farmers' market
Go rock hunting
Nature Travels
Your turn – what will you put on your family's spring outdoor fun list?