Welcome to the second installment in this summer's 3-part series on water play. (If you missed the first post, head over to 10 ideas for water play at the river. You can find the final post in the series here: ideas for water play in the backyard.)
Staying safe at the beach
Most simple water play at the beach takes place away from shore. But it doesn't hurt to keep a few safety measures in mind. When you're at the beach with young kids:
Choose lifeguard-protected beaches if you plan to let your kiddos swim. Swimming in the ocean requires a unique set of skills – even for those already confident in the pool. Always make sure you can see your child in the water.
Do not allow non-swimmers to go in the ocean alone. Have young children or inexperienced swimmers wear life jackets in and around water.
Pick family-friendly places to play. Some beaches are known for their calmer waves and kid-friendly setting.
Keep a watchful eye on young kids, even at the shore. Waves can easily cause little legs to lose their footing.
1. Splash!
Kicking and jumping at the shore are great ways for even the littlest kids to make a huge splash.
2. Chase the tide.
When the tide goes away from the shore, run toward it. Then turn around and run back when the waves return. Can you make it back without getting wet?
3. Make footprints in the sand.
Wet your bare feet, then stomp your print into the sand. How long will they last before they're washed away?
4. Explore tide pools.
If you time your beach visit during low tides, you can go tide pooling. No two adventures are ever the same, so you're always discovering something new.
5. Head into the shallows & peek into the water.
Even if it isn't low tide, you can still take a peek at what's below the water's surface. You'll need to make your own underwater scope by recycling a plastic container and some plastic wrap. Head out to the shallows with an adult and see what you can discover.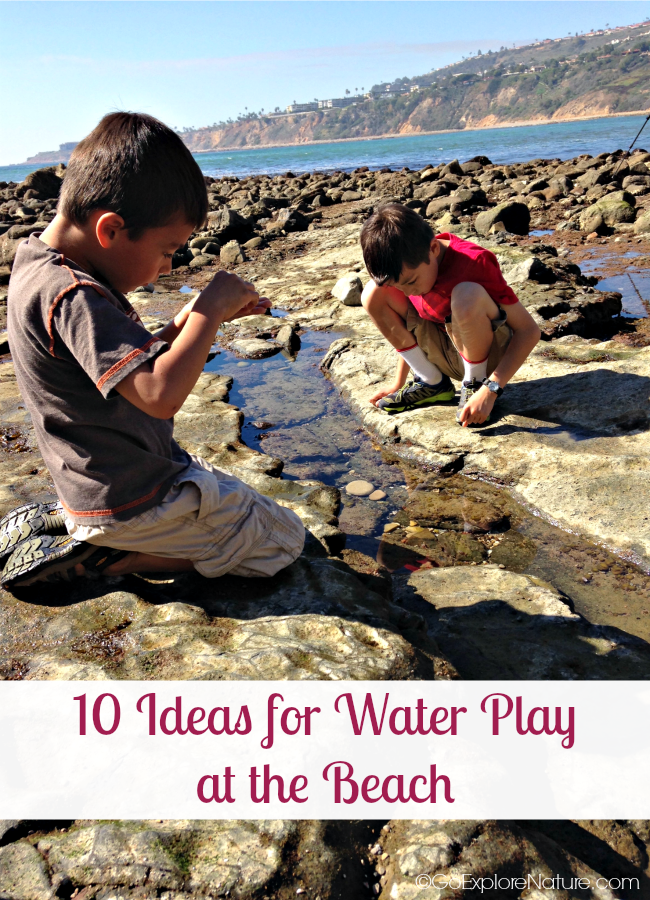 6. Make drip castles.
Sometimes it's fun to try building something other than the traditional sand castle. I especially love making drip castles because it's messy.
7. Dig a hole in the sand & fill it up with water.
Create your own little pools in the sand. They make great spots to jump and splash in. You can keep them small or deep enough to step into.
8. Create rivers in the sand.
All it takes is a stick or finger to carve out channels (or rivers) in the sand. Then fill them with water. Where will the river flow? What happens when you drop something into the river?
9. Fill & empty a bucket.
Add sand if you like. Repeat as needed.
10. Search for sea creatures & treasures.
Grab a bucket full of water and sand at the shore, then see what's inside. This is a great way to spot critters that burrow in the sand – or uncover rocks and shells. Be sure to return all living creatures to the ocean when you're done with your investigations.