We've been talking about water play a lot this month, what with it being summer and all. And while spending a morning or afternoon at the beach or river is wonderful, sometimes schedules just don't permit it.
No worries! There are plenty of ways to enjoy water play right in your own backyard. Know how to stay cool outside on hot days and always keep an eye on all kids playing in and around water.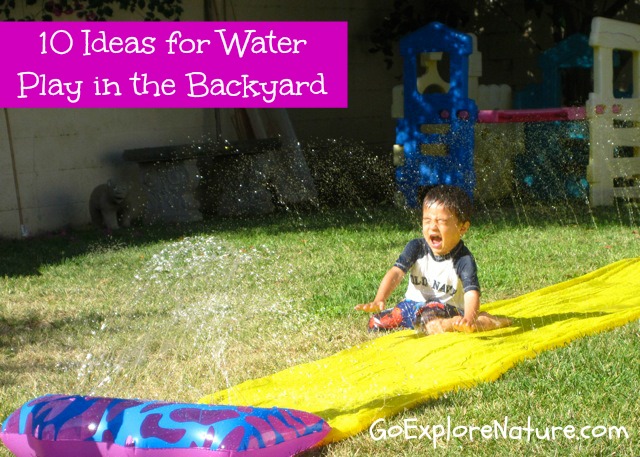 1. Splash around in a bucket or kiddie pool.
A bucket filled with water is perfect for little explorers looking to touch and splash water. Older kids might want to sit inside larger buckets – or pour water over their heads. Inflatable or plastic kiddie pools are other inexpensive options with more room for bigger kids.
2. Create a backyard beach.
To create a backyard beach, start with an oversized container, such as a large galvanized tub. Add some sand (which can be purchased at a local garden supply store), shovels, sifters, plastic animals and water and you've got yourself a backyard beach.
3. Run through the sprinklers.
Vary things up a bit by attaching things to the hose to spray water in all kinds of directions. You can even hook up the hose to a slip and slide. You don't need to leave the water running long to pack in lots of fun.
4. Make a rainbow.
To make your own rainbow, you'll need a hose, a nozzle with a mist setting and some sunlight. Turn on the water, point the hose toward your shadow and voila – your very own rainbow!
5. Play in the rain.
Summer rains are a perfect excuse to head outside for some rainy day fun. Try to catch a raindrop on your tongue, dance in the rain or make rain art.
6. Just add mud.
Take your backyard water play to the next level by adding dirt to the mix. Two great ideas for getting wet with mud: Jumping in mud puddles and taking a mud bath.
7. Paint with water.
A bucket of water and some paintbrushes are all you need. (Use ice cubes if it's really hot out!) Let the concrete be your canvas.
8. Set up a water table.
This one is especially popular with the younger explorers. Add water, sponges, empty containers and toys. (By the way, if you don't have a water table, a large plastic container works, too.)
9. Make a pond in a bucket.
A pond in a bucket is ideal for families with little to no backyard space. Not only is a fun way to learn about another type of water environment, it's also a great way to invite more wildlife into your yard.
10. Float paper boats.
Make and float your own paper boats in a large bucket, water table or kiddie pool. How well do they work? Try floating other items available in your backyard, like sticks, rocks, flower petals and the like.
Your turn: How do your kids like to play with water 
in your backyard?