Your kids are excited to be out of school for winter break. You? Not so much. I get it. After all, my boys have three weeks' worth of vacation coming. Eventually, all that excitement about winter break fades and the bickering and complaining kicks in.
Our solution is to keep some semblance of structure during all that time off from school. I created this list of things to do with kids in Los Angeles over winter break to help us not just "get through" the next few weeks, but actually enjoy ourselves.
Before you start making a to-do list out of the suggestions below, get out your family calendar. Block off the days and times you already have commitments – things like holiday parties, winter camps, dentist appointments and haircuts. Then ask your kids if they have anything special they want to do. Provided you can make those things happen, block that time off your calendar, too. Now take a look at the time you have left. Here are a few ways you might want to spend it:
Enjoy seasonal activities while they last.
Much of the holiday fun in Los Angeles continues into the New Year. Here's what's happening for families over winter break:
Take advantage of your annual passes.
Finances are usually a little tighter during the holidays, making it the perfect time to use any of those annual passes you bought earlier this year. Head to a museum, aquarium, zoo or children's museum for free. Here are a few special exhibits to consider during winter break:
Head to the beach.
Beaches are a lot less crowded during winter. Bring a jacket – and maybe a kite – and take advantage of having the place practically to yourselves. Check out my list of the best beaches in Los Angeles to figure out which is best for your family. Wondering what to do while you're there? Why not:
Go for a hike.
Winter's moderate temperatures make for great hiking. Choose one of our favorite Los Angeles winter hiking spots or head to an old family favorite. Remember to bring snacks and wear layers.
If you're reluctant to get outside in L.A.'s colder weather, get some inspiration with these outdoor play activities for California "cold weather" from my partner Michele at Fun Orange County Parks.
Whatever you decide to do, leave time in your schedule for you and your kids to do absolutely nothing. You deserve it!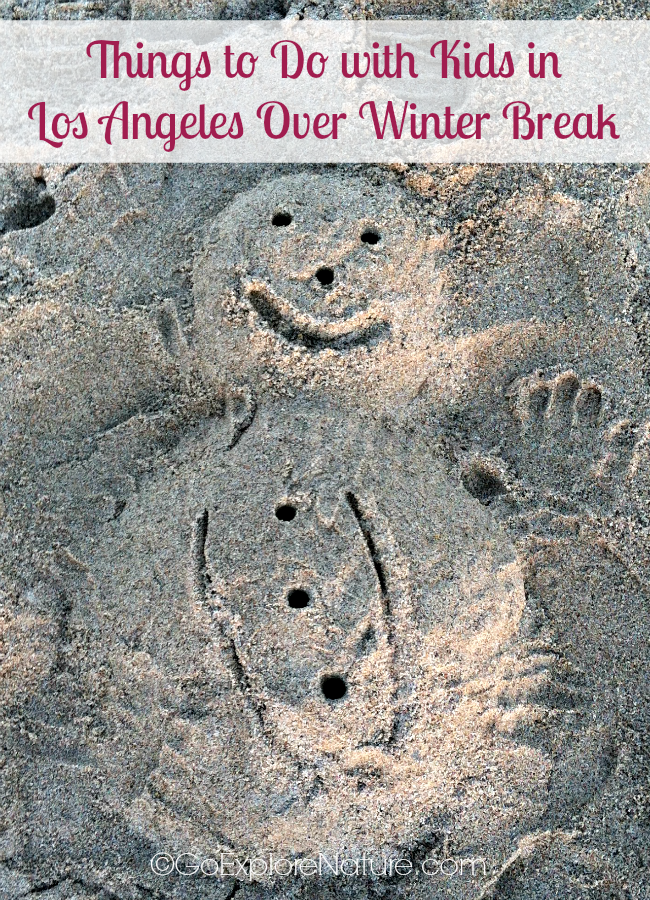 If you need more ideas for winter break family fun, try these: