This Solstice Canyon Hike is one of the more popular to do with kids in Los Angeles. I think it has something to do with the fact that there's a lot to discover along the way, not to mention at your ultimate destination – a waterfall and the ruins of an old house.
There are actually quite a few trail options at Solstice Canyon, whether you're looking for something easy, moderate or more strenuous. The 2.1-mile Solstice Canyon Trail is just right if you want to pack in a lot of sights and fun "detours" as you go.
En route to the ruins and the waterfall, there's lots to see. You will pass the remains of Keller House, a hunting cabin built over 100 years ago. You can't enter the ruins, but it's fun to walk around the structure and try to imagine what it might have looked like in its heyday.
If you look and listen closely, you might spot a lizard, woodpecker or even a deer along the trail. It's fun to go "hunting" for these critters that blend in so well with their environment. Look for birds and butterflies, too.
The waterfall and the ruins of the Roberts Ranch House at the Tropical Terrace are your turnaround spot. Although kids might not be able to envision what the ruins might have looked like once upon a time, this is still a fun spot to run around and explore.
Right next to the house is a creek and waterfall, both of which tend to be big hits with the kids. Depending on how you time your hike, this is a nice spot for a picnic lunch (or snack). There aren't any picnic tables, but it's always fun to dip your feet in the water and eat stream-side.
This hike can be quite uncomfortable on a hot day, so I'd highly recommend saving it for the cooler months.
If you decide to eat lunch after your hike, head south on PCH and grab something at the Malibu Colony Plaza (we like Subway, but there's also a Ralph's and a yogurt/ice cream shop) off Webb Way. Then head over to Malibu Bluffs Park for more play time.
Highlights
Distance: The Solstice Canyon Trail is 2.1 miles round-trip
Difficulty: Easy
Best time of year to go: Any cool day, as the trail is not shaded
Trail condition: Dirt trail is wide but uneven and rocky in parts; the Tropical Terrace area is difficult to navigate with a stroller
Don't miss! Explore the ruins of an old home, scramble on rocks, meander along a creek and see a waterfall
Suggested time: About 2.5 hours, which allows for time to reach the Tropical Terrace and waterfall, and to play and explore a bit along the way
Recommended gear: A hat and water are a must, especially on sunny days
Practical Matters
No park entrance fee
Free parking, but very limited: My advice is to arrive early, especially on weekends – while you could park on Corral Canyon instead of entering the park, the walk to the trailhead isn't something you want to do with kids in tow
Restrooms: Located at the trailhead near the parking area
Park map: Directions and trail map
Picnic tables: Several located near the parking area (covered), plus a few more within the first ¼ mile (though not as in as good a shape as the covered ones)
Pet friendly: Dogs welcome, as long as they are on a leash
Managed by: The National Park Service (Santa Monica Mountains National Recreation Area)
Getting to the Trailhead
Solstice Canyon is roughly 35 minutes north of Santa Monica. From the Pacific Coast Highway, head north on Corral Canyon Road. Continue ¼ mile to the park entrance on the left. Follow the road into the park (past the first few parking spaces) until it ends in a larger parking area.
Solstice Canyon is located at:
Intersection of Corral Canyon Road
and Solstice Canyon Road
Malibu, CA 90265
Directions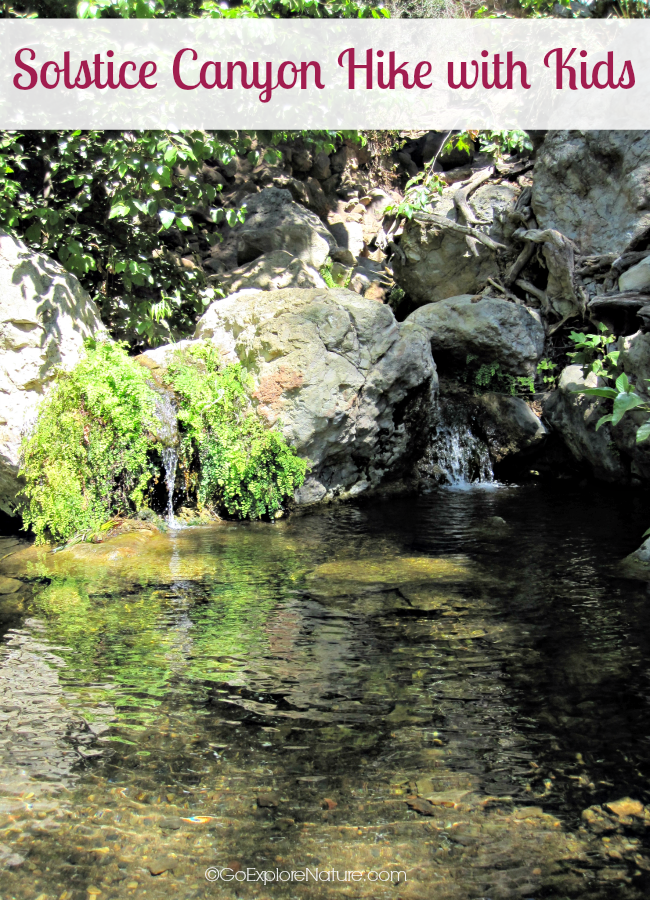 For more inspiration for family hikes in Los Angeles, check out: