August in our neck of the woods is usually when the heat starts to turns up. At times like this, it helps to have some ideas for water play in the backyard on hand. One of our favorites: Mixing water and dirt to make a mud pie.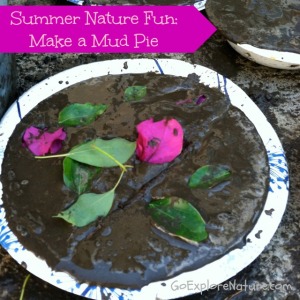 To make a mud pie, you will need:
Dirt
Water
Something to use to mix the dirt & water together, like a stick or a plastic scoop
Something to put the mid pie in (like an old cake tin or a paper plate)
Natural adornments gathered from around your yard
Remember, the best part about making mud pies is the chance to get dirty. Really dirty. So be prepared to hose down the kids when they're finished with their creations.
Need a few more fun things to do with mud?
Looking for more ways to get the kids outside and into nature this summer? Check out 50 ideas for your summer outdoor bucket list.