Spring is in the air and the incentive to head outdoors is stronger than ever. It doesn't hurt that April is full of nature celebrations – including Earth Day, Picnic for the Planet, and the Children & Nature Network's Let's G.O.! (Get Outside) event.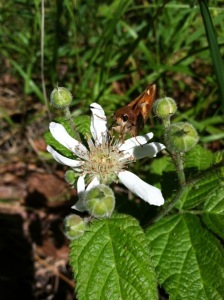 If you're looking for a few easy ways to spend time in nature this month, you've come to the right place. Along with this list is a free printable, so you can print it, post it and use it to inspire your own outdoor adventures. Remember: Keep it simple and have fun!
1. Participate in the April #GetOutside Photo Scavenger Hunt.
To support the Children & Nature Network's Let's G.O.! (Get Outside) month, I created the April #GetOutside Photo Scavenger Hunt. Every day in April, there's a different item for you to get outside and discover, take a picture of, then share with the rest of us.
2. Celebrate Easter outdoors.
At least part of every Easter celebration in our family consists of games and activities outside. This year in addition to our Easter egg hunt, there will be pin-the-tail-on-the-bunny, egg tosses (with hard boiled eggs) and more.
3. Start planning your garden space.
Think beyond fruits and veggies. We'll be planting some natives to attract bees and butterflies. We'd also love a mud garden and a secret garden just for The Explorers.
4. Throw an outdoor tea party.
The Explorers loved the outdoor tea party we threw last summer. Invite friends (or favorite stuffed animals), dress up a table up with a colorful tea set and add wildflowers as your centerpiece.
5. Go on a micro safari.
Head outside on a micro safari where you choose one square foot of space to study up close. You can choose anything from a patch of grass to a bunch of flowers or the trunk of a tree. Bring along a magnifying glass and see what you can discover.

6. Celebrate Earth Day by playing in the dirt.
I can think of no better way to celebrate the Earth than by getting good and dirty. Dig a hole, bake mudcakes or make mud prints.
7. Bring the outdoors in.
Add a spark of nature to your home by bringing a little bit of the outdoors in. I love having fresh flowers from my yard in a small vase in the kitchen or on my desk. And The Explorers now have a plant of their very own.
8. Go on a pick-your-own adventure.
Check to see what's in season at a U-pick farm near you. Our favorite this time of year?  Strawberries.
9. Join the Picnic for the Planet effort.
The Nature Conservancy's Global Earth Day Celebration – Picnic for the Planet – is the perfect opportunity to get outside and enjoy good food with friends. This year, they're also attempting to set the world record for the world's largest picnic!
10. Go barefoot.
I loved being barefoot as a kid. And I long for the barefoot days of summer already. Why wait? Every kid is entitled to spend time with their toes in the grass (or dirt, or mud)!
Need a few more ideas?