Halloween has come and gone. And Christmas seems like it's a lifetime away. Or so my kids tell me.
What to do to make getting outside and into nature fun now that the weather has cooled off? Start with the basics: Dress for the weather, keep it simple and have fun.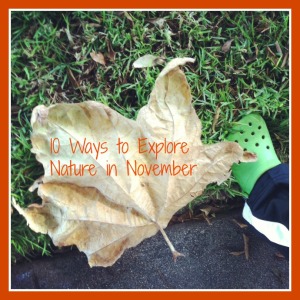 Here are 10 ideas for connecting with nature in November:
1. Participate in the Fall Nature Photo Scavenger Hunt.
Have you downloaded your copy of the Fall Nature Photo Scavenger Hunt yet? There's still time to play along!
2. Create a thankfulness tree.
Head outside and gather some sticks. Drop them in a container and add paper ornaments in shapes like leaves and acorns. On each ornament, write down one thing you're thankful for this season. Voila – your very own thankfulness tree.
3. Make your own weather station.
This one's been on both our Summer and Fall Fun Lists. Among other things, The Big Explorer wants to track temperature and measure rainfall.
4. Host an apple taste test.
We've been getting to know our fall fruits, including pomegranates, apples and pears. In fact, our simple apple taste testing experiment introduced a new favorite into our kitchen.
5. Go on a thankfulness walk.
Last year, The Big Explorer loved our thankfulness walk. He took pictures of all the things he was thankful for during a visit to our cabin in Yosemite. If you don't have a camera handy (or your explorer is still too young for one), just pointing things out as you see them works, too.
6. Play in the rain.
The Explorers are dying for some rain. They've got all sorts of ideas for what to do – including hosting snail races, searching for worms and racing boats.
7. Go stargazing.
Fall is a great time to sneak a peek at the night sky since it gets dark sooner and (hopefully) isn't as cold as winter. When stargazing with kids, count stars, point out the moon, the brightest and biggest stars, and name constellations.
8. Go on a Thanksgiving Day scavenger hunt.
Do you get outside on holidays? A Thanksgiving Day scavenger hunt is one way to explore nature with family either before or after the big meal. This one's even more fun if you're visiting relatives out of town.
9. Run through the leaves.
The Big Explorer loves the sound of crunching leaves beneath his feet and The Little Explorer loves to run, so this is a match made in heaven. Add a hill to the mix and you're looking at one of the simplest pleasures of childhood.
10. Take a hike.
The cooler temps make for perfect hiking conditions. If you're short on time, skip the trail walk and head to your neighborhood park or go for an urban nature walk instead.
Need a few more ideas?