It's time to start talking Easter baskets. This isn't a new topic around these parts – last year I shared 20 Easter basket ideas for nature kids, and before that 10 Easter gift ideas for little nature explorers.
Those lists are great, but now that The Explorers are a little older, much of my gift giving is based on their unique interests. So this year I thought I'd share ideas based on a variety of potential nature-themed interests.
By the way, if you don't celebrate Easter, consider these ideas handy for creating a spring fun kit. What a great way to get the kids excited about a new season!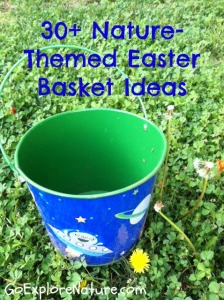 For backyard bird watchers
For aspiring gardeners
For bug lovers
For budding scientists
For the littlest explorers
What have you included in your child's past Easter baskets to encourage outdoor play & nature exploration?