The madness is about to begin. December 1 marks the official countdown to Christmas in our house. But not in the sense you might be thinking.
Sure, the boys are on cloud nine dreaming of all the gifts they claim they'd love to have. But something else is at work here, too.
The Big Explorer told me today that what he loves most about the holiday season isn't the gifts he gets (gasp!). He says it's looking at all the beautiful lights and decorations. And singing holiday songs. And that it's just so hard to not be … happy.
He's right. This time of year it feels like every day is just a little extra special.
To keep from getting sucked into the hustle and bustle that is the holiday season, we try to keep it simple. It all starts with our 24 days of nature fun list.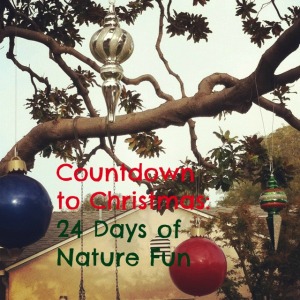 We created this list together, then chose a specific date for each activity, allowing us to accommodate school, work and holiday schedules. Some items are pretty simple; others involve a little more time and planning.
As with all of our seasonal activity lists, this one will hang in a high traffic area of our house so everyone can see what's on the agenda. You'll notice our list includes activities indoors and out. And a couple of the items aren't technically nature-themed. But I think you get the point.
Make an ornament from nature
Design birdseed ornaments
Decorate a tree in our yard for wildlife (hence the garland & bird seed ornament above)
Create twig stars
Take a holiday lights walk (in jammies if possible)
Build a card tree
Head to a Christmas tree farm (or elsewhere) & pick out our (live) tree
Decorate the tree
Have a Christmas-themed picnic (I'm wearing my Santa hat!)
Make a snow, sand or grass angel (I made up that last one, but the kids were game)
Watch a Christmas movie by the light of the tree
Snuggle up with a backyard campfire, a Christmas story & hot cocoa
Build a twig tower (we really like sticks & building around here)
Bake Christmas cookies
Take a sleigh ride to visit Santa (aka, a train ride to Santa)
Make an ice ornament (which is a fun science experiment for us)
Grab our cameras & complete the Fall Nature Photo Scavenger Hunt
Set up a backyard weather station
Go on a winter nature scavenger hunt
Build a snowman (yes, we'll do this one even without snow!)
Make magic reindeer food (or maybe a reindeer ice wreath)
Need more inspiration? Don't miss last year's 10 Christmas nature activities for kids and a collection of even more ideas on my Christmas nature fun board over on Pinterest.

Your turn! What's your favorite way to connect with nature during the holidays?