It's official: Christmas is a mere 24 days away. In our house – semi-remodeled/semi-chaotic as it might be – the excitement is palpable. It's everyone's favorite time of the year.
And with reason. We have lots of family traditions to look forward to. The challenge is to stress less and have more fun as we enjoy those traditions.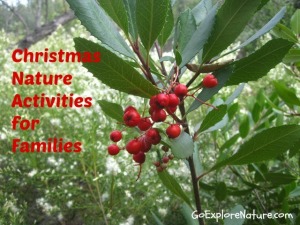 That's where these 25 Christmas nature activities for families come in handy. These activities are simple, help family members connect with each other and the season, and get everyone outside. Pick a few or choose one for every day from now until Christmas.
If you need more inspiration, I'm collecting new ideas every day on my Christmas nature fun Pinterest board.