I think spring in Los Angeles is a little underappreciated. After all, it's wedged in between the excitement of winter holidays and the lure of warm, carefree summer days. It almost gets lost in the seasonal shuffle.
And in spite of the warming temps, it's still easy to settle in to routines that don't involve much time outside. Instead of bemoaning windy days or planning your summer vacation, take some time now to enjoy spring while it's here.
Here are some fun, simple things to do in Los Angeles this spring with kids. Choose one or more activities from this list – or come up with your own family favorites. Then add them to your family calendar so it's a date!
This spring in Los Angeles, you can:
Go whale watching. Migrating Pacific gray whales can still be spotted off shore throughout the month of April. Get up close on a guided whale watching tour with Dana Wharf Sportfishing and Whale Watching. Or watch from shore at Point Vicente Interpretive Center in Rancho Palos Verdes or Point Dume in Malibu.
Attend a Dodgers baseball game. This is a hallmark of spring in our family. Did you know kids 14 and under can run the bases after every Sunday game? Don't forget to check out the kid's play area in the Reserve Level! This year's home opener is April 12.
Meet the dinosaurs. A new exhibit opens April 15 at the Los Angeles Zoo. Some 17 life-sized creatures of the mighty Mesozoic era will be "unextinct" —brought "back to life."
Stroll through the flowers. There are so many ways to see flowers in and around Los Angeles this spring! Here are just a few ideas:
See some butterflies. Here are a few places you can spot butterflies this spring in Los Angeles:
Head out to the farm. Pick your own berries at Underwood Family Farms. While you're there, stop by and visit the latest additions to the animal center.
Spy a waterfall. Spring is a great time to hike to waterfalls to actually see water in the falls. Kid-friendly trails include:
Eaton Canyon (in Pasadena)
Monrovia Falls (in Monrovia)
Solstice Canyon (in Malibu)
Sturtevant Falls (in Arcadia)
Temescal Canyon (in Pacific Palisades)
Take a hike. Once the summer heat arrives, many Los Angeles trails don't have enough shade coverage to be fun for families. Here are a few trails to enjoy while the slightly warm, not-too-hot spring temperatures are here:
Kick off beach season. Come mid-May average temperatures in LA hit the mid-70s, which is perfect for heading to the beach. Bonus? The summer crowds won't be around just yet. Pick from one of our favorite beaches for families in Los Angeles.
Celebrate Earth Day. In honor of Earth Day this April 22, make a nature connection with an L.A.-area national, state or local park.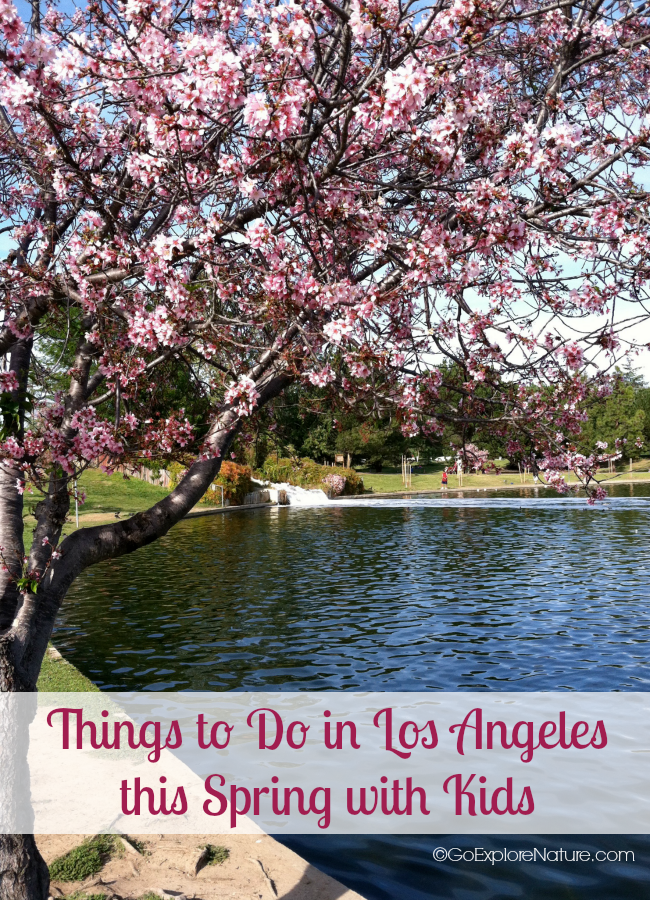 For a few more ways to get outside with the family this spring, don't miss 32 ideas for spring backyard nature fun.