With the official kick off of spring just a few weeks away, it's hard not to get excited about spending time outside in March. There are plenty of excuses for kids to celebrate – St. Patrick's Day, Easter and the Spring Equinox all happen this month.
Still cold and snowy in your neck of the woods? Check out 31 days of backyard nature fun for a month's worth of all-weather activities to keep you and the kiddos sane until it warms up.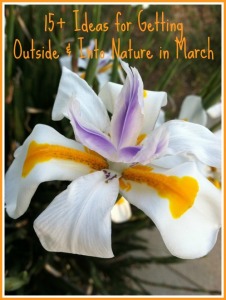 1. Search for 4-leaf clovers.
We've searched for 4-leaf clovers before without any success. Lucky for us, the fun is in the hunt. Need help? Check out a short video on how to find a 4-leaf clover.
2. Create a leprechaun garden.
This idea is a twist on the classic fairy garden with shamrocks, leprechauns and gold coins for added effect.
3. Play in the mud.
If you don't already have a mud kitchen, start thinking about creating one. The kids will love using it to make mudcakes and mud prints, or even just to some mud painting.
4. Go on a spring nature walk.
Seeing any signs of spring yet? Go on a spring nature scavenger hunt and discover what's changing in your neighborhood.
5. Make a spring outdoor family fun list.
We're just starting to talk about what outdoor activities and adventures we'll put on our spring outdoor fun list. Involve the entire family and turn your ideas into a to do list.
6. Adopt a caterpillar.
It's been three years since we adopted caterpillars and watched them grow into butterflies, so we'll be trying it again. This is a great way for kids to see the process of metamorphosis up close.
7. Plan your spring garden.
Time to start prepping your garden for planting. Decide what you want to plant and where – with input from the kids, of course.
8. Go on a puddle walk.
Hopefully, we'll get some more rain this month. I owe The Explorers a good romp through the puddles in our neighborhood.
9. Host an outdoor Easter egg hunt.
Why hunt for eggs inside when you can take the fun outdoors? You can even have a nighttime Easter egg hunt using glow sticks inside plastic eggs.
10. Hike to a waterfall.
Hiking weather is perfect this time of year – not too hot, not too cold. Waterfall hikes are especially fun for kids, what with the payoff of an exciting destination. Don't have waterfalls near you? Pick a new-to-you hiking adventure instead.
11. Throw a backyard celebration to mark the start of spring.
Have a picnic, pick some fresh flowers or paint a birdhouse to celebrate the Spring Equinox with your kids.
12. Join the Winter (or Spring) Nature Photo Scavenger Hunt.
Grab a camera and head outside. There's still plenty of time to play along with our winter nature photo scavenger hunt and the spring version will be ready soon.
13. Make your own spring fun kit.
A new plastic beach bucket stocked with items for spring will help encourage outdoor fun and exploration. For ideas of what to put inside, check my Easter basket ideas for nature kids.
14. Take a wildflower walk.
More and more wildflowers will begin making their appearance soon. Head outside and see what's popping up near you.
15. Make a dandelion bouquet.
Gather some dandelions and let your kiddos practice their flower arranging skills by making their own bouquet.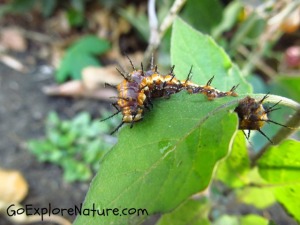 Need a few more ideas? How about …  
What outdoor fun will you be up to this month?