This post has been resurrected just in time for summer. It has been thoughtfully tweaked and updated since it first appeared. Which makes it almost like new!
At the start of every season, we create an outdoor fun list. Together, we dream up some things we'd like to do, write those ideas down and then try to make them happen. Of course, more than any other time of year, we also plan for lots of downtime to make room in our lives for enjoying summer's simple pleasures.
Some of the ideas on our summer outdoor bucket list are simple, but others require more time – things like cherry picking or fishing. Which is why this year, we're dedicating time each week during Camp Mommy to an item on our list.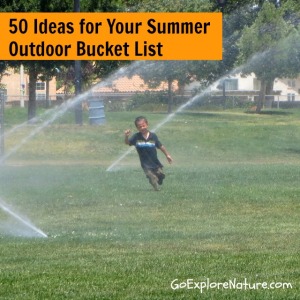 50 Ideas for Your Summer Outdoor Bucket List
Instead of sharing what's on our family's summer outdoor bucket list (you can see our 2010 and 2012 lists for past examples), I thought I'd share some ideas to help inspire you to make your own.
20 Things to Do in Your Backyard
10 Ways to Explore in Your Community
Explore a new-to-you neighborhood park
Go on a field trip to a local natural history museum, science center, nature center or other museum
Hunt for a geocache
Make drip castles at the beach
Visit a state or national park
10 Nature crafts
5 Summer Science Experiments
Create an outdoor LEGO solar system
Grow crystals
Perform water balloon splatter tests
5 Tastes of Summer
Need a few more ideas? Check out my summer outdoor fun board on Pinterest, where I collect ideas for summer play and summer bucket lists from around the web. And don't miss your A-to-Z guide to summer backyard nature fun.